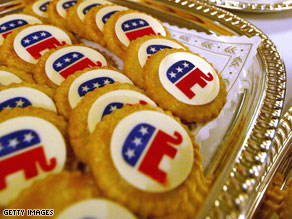 FROM CNN's Jack Cafferty:
Conservatives are happier than liberals.
A study published in the journal "Psychological Science" says it's because conservatives are better at rationalizing inequalities.
Regardless of someone's income, marital status or church attendance, people with right-wing ideologies report greater satisfaction with their lives than those with left-wing beliefs. Researchers found that conservatives also score highest when it comes to the ability to justify inequalities.
For example, a conservative might support the idea of a meritocracy – that if you work hard and perform well, you'll move up the economic ladder… and if you don't, you probably won't. But the study shows liberals tend to be troubled by this. Inequalities take a greater psychological toll on liberals, apparently because they can't rationalize away the gaps in society and thus end up more frustrated by them.
The study goes on to say that this research can be applied to areas other than economic inequalities. One example is that feminists may not be as happy in their marriages as more traditional women because they're frustrated with the division of domestic chores.
These latest results go along with a Pew poll from 2006. It found 47% of conservative Republicans described themselves as "very happy", compared to only 28% of liberal Democrats who felt that way.
This, then, is our burnt offering for a rainy Friday.
Here's my question to you: A new study says conservatives are happier than liberals. Why?
Interested to know which ones made it on air?
Erin writes:
Those of the so-called RIGHT way, whether it be political conservative or fundamentalist, have to say they're happy – their whole rationale of being better than others is based on this very premise! Those who claim to know all the answers can't admit to having questions.
P. from Fort Myers, Florida writes:
Because liberals are always counting on the system to establish fairness, equity, and trust in government… in order to provide solutions to complex social and economic issues. Conservatives count on themselves. They do not rely on the system or the government to resolve problems. They create their own opportunities, they establish charitable causes, they focus on creating their own security and providing security for their families.
Rickie writes:
How is this relevant in the least? I would like to know who did the study and why they don't have better things to do. I could think of a lot of better things to do. CNN, I expect better out of you but perhaps I shouldn't. This doesn't prove nor help anything. Just trying to tick people off with nonsense. Give us news. Remember that is what you are supposed to be doing.
J.C. writes:
You can't be a true liberal unless you're miserable. The minority that claims happiness feel that they have reached the correct level of constant outrage.
Mishael writes:
Are O'Reilly, Hannity or Limbaugh happier? They seem to me like they are complaining about something every day!
Matt writes:
Let's do a survey on this issue again AFTER November!
Lisa from Arizona writes:
Annoy a liberal: Work hard. Succeed. Be happy.
Kevin from Albany, New York writes:
Ignorance is bliss.