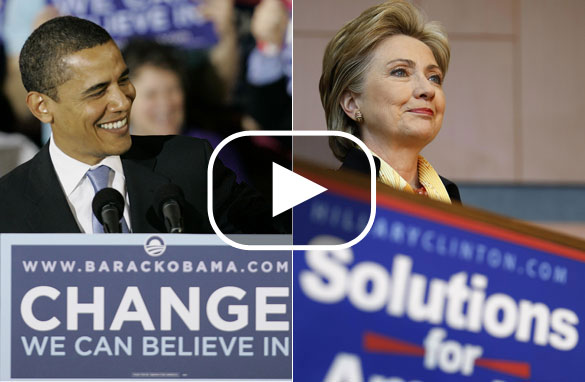 Click the Play Button to see what Jack and our viewers had to say. (PHOTO CREDIT: GETTY IMAGES)
FROM CNN's Jack Cafferty:
For all those like Mitt Romney who said, when talking about Barack Obama, "The presidency of the United States is not an internship," consider this.
The young guy with not nearly as much political experience is on the verge of toppling one of the most powerful political names of the last 50 years, Hillary Clinton. For all her claims of having more experience, the relative newcomer proved to have a lot more moxie.
She said "experience." He said "change." Voters bought change. He planned beyond Super Tuesday and paid attention to the caucuses. She pretty much ignored the caucuses and assumed she would be the nominee the day after Super Tuesday.
When she wasn't, she was in trouble. Poor planning on the ground and a shortage of money immediately put her at a disadvantage for the rest of the way. She relied on friends and people who were loyal to her. In time, as things began to sour, there was friction and key people left. Her husband hurt her – some say a lot.
As things got worse, she grew more desperate. The kitchen sink strategy appeared. So did demands to count the elections in Michigan and Florida – elections that are invalid. So did false claims about things like her trip to Bosnia.
And all along, she failed to recognize the overriding theme of this election year. The people in this country are sick and tired of their government. They want "change." How could someone with so much "experience" not see that?
Here's my question to you: How will history view the race between Barack Obama and Hillary Clinton?
Interested to know which ones made it on air?