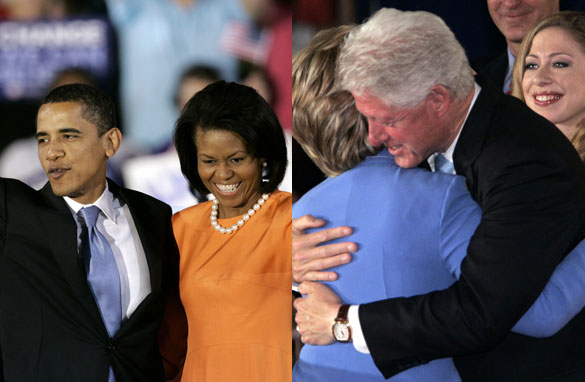 FROM CNN's Jack Cafferty:
"And the winner is".... Barack Obama.
At least that's according to the cover of the latest issue of Time magazine. There seems to be a collective sigh of relief that this race between Obama and Hillary Clinton is all but over. Many believe it's just a question now of how Hillary Clinton will choose to make her exit. Will it be graceful? Or will it be something else?
This might give us an idea. Beneath the surface there are things lurking that could taint this sense of celebration and unification of the Democratic Party. Not only is Hillary refusing to go quietly, she's refusing to go at all. And despite her repeated assurances that she will be a team player in the fall, Clinton is still out there making some pretty incendiary remarks about race.
Clinton told USA Today she will be the stronger nominee because she appeals to a wider coalition of voters. She said, "Obama's support among working, hard-working Americans, white Americans, is weakening again, and whites in both states [meaning Indiana and North Carolina] who had not completed college were supporting me." Clinton says this shows an emerging pattern… that whites are voting for her. The Obama camp calls these statements untrue and disappointing.
Then there was Clinton supporter Paul Begala right here on CNN Tuesday night. He said that Democrats couldn't win in November with just, "eggheads and African-Americans." This all makes it seem like there's a long way to go before the Democratic Party can make any claims to being united.
Here's my question to you: Are there wounds in the Democratic Party that just won't heal?
Interested to know which ones made it on air?
Kathy writes:
The longer this goes on, the harder it will be for the Democrats to come together in November to beat John McCain. Senator Clinton knows she can't win the nomination, so she is intent on destroying Senator Obama, the Democratic Party, and she is hurting herself in the process. She is like a bad actor who won't leave the stage. It's time for the hook already. If her last name were something other than Clinton, she would have been forced out of this race a long time ago.
Eileen from Laguna Beach, California writes:
Not yet, but a few more appeals to the so-called white vote OR a move by superdelegates to overthrow the will of the people and it will be a party "Dead on Arrival" in November. If Clinton steals the nomination, this is one elderly white woman who will not vote for her. I'll be the bitter one clinging to my principles.
Michael writes:
As long McCain is attached to the hip of Bush, not even the Democrats could screw up bad enough to lose. This is the first time a Republican has had to follow the most unpopular president in American history. It's over for the Republicans, the fat lady has already left the building.
Cindi from Iowa writes:
Jack, All this talk about whites and working class voters: I live in Iowa and we elected Obama as the nominee. You can't get more working class or white than Iowa.
Rick writes:
I think there are some deep wounds in the Democratic Party. Harsh words have been said on both sides of the Democratic campaign. The only way to unite the party would be for Clinton to take the V.P. spot. But that would mean she would have to go back on a lot of criticism she's made and take a subordinate role to someone she feels is an inferior candidate. Can her ego take that hit?
Sandra from Texas writes:
There are no wounds inside the Democratic Party that will not be forgotten or at least forgiven once everyone takes a good long look at John McSame.