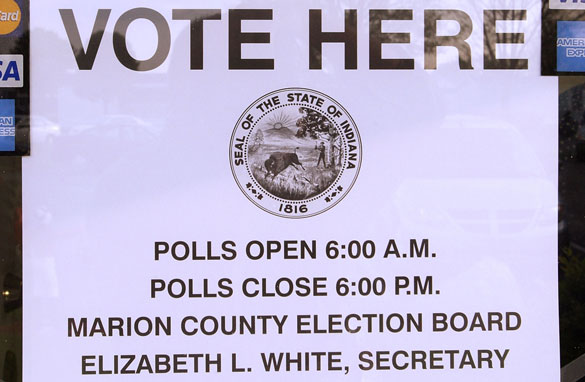 (PHOTO CREDIT: GETTY IMAGES)
FROM CNN's Jack Cafferty:
Here's something that might surprise you: After a 16-month, often bruising fight between Hillary Clinton and Barack Obama, most Democrats aren't eager for either candidate to drop out of the race. After all the contests and debates, speeches and TV commercials, fliers and phone calls, the Democrats want the suffering to continue.
A new USA Today-Gallup poll finds 60% of Democrats say Clinton and Obama should keep campaigning. Of those who want a speedier resolution, 23% say Clinton should give it up and only 15% say Obama should drop out.
There had been calls for Clinton to get out of the race a while back, but they've quieted down some since her strong performances in Ohio and Pennsylvania. It's looking increasingly unlikely the party will have a nominee until the uncommitted superdelegates weigh in.
This poll also shows most Democrats think the superdelegates should commit to a candidate by the end of June, which is what the party chairman Howard Dean is calling for. Only about a quarter say the superdelegates should be able to decide at the party's convention in August.
All this seems to suggest Democrats aren't too worried about the Clinton-Obama contest tearing the party apart. Instead, there seems to be a willingness to allow the rest of the voters to have their say.
Here's my question to you: Why can't the Democrats make up their minds?
Interested to know which ones made it on air?
Jim from British Columbia writes:
They are making up their minds. When the votes are counted, the results will be clear: 52% for Obama and 48% for Clinton. So the Supreme Court will be called in and Clinton will be declared the winner, since she reflects the true Bush values more than McCain does.
Sarah from Indiana writes:
Oh dear, the choice one has to make. Sen. Clinton could be the least pleasant candidate, but is highly qualified for the job. But wait, the media hates her and there is that un-hip husband of hers. Sen. Obama is hopelessly unqualified for the job, but damn, the man can deliver a speech. But wait, there's that whole elitist attitude, then calling his own granny a "typical white woman". And he sat listening to Rev. Wright for 20 years (can you say serious lack of judgment?), but the media loves him and if I don't vote for him, I get labeled a racist. Oh Jack, what is a Democrat with common sense and a brain to do?
K. writes:
Isn't that what they're doing?
David from California writes:
Democrats tend to be like herding cats. We like to think for ourselves and don't go in lockstep with what the national party tells us. Hillary and Obama argue and fight with each other and it makes for great theater. I want it to go all the way to the convention.
Mike from New Orleans writes:
Democratic voters have made up their minds: half are for Clinton, half are for Obama. It is the Democratic National Committee that has to make up its mind how it is going to fix the colossal mistake it made with regard to counting Florida and Michigan. If the Democrats lose in the fall, they can thank Howard Dean's DNC for their self-inflicted failure.
Anthony from Webster, Wisconsin writes:
Jack! It's like asking a 6-year-old to choose his favorite M&M.