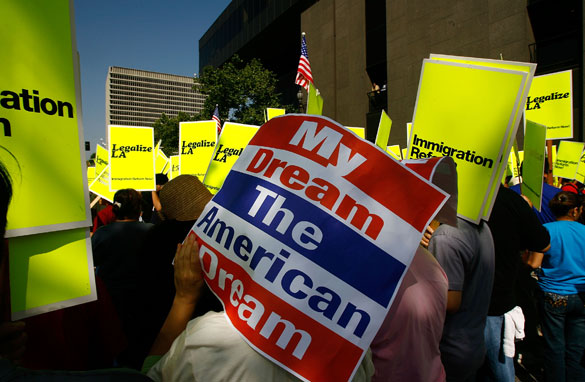 International Workers Day immigration-rights march on May Day in Los Angeles, California. (PHOTO CREDIT: GETTY IMAGES)
FROM CNN's Jack Cafferty:
For the last two years, May first has been the day that the estimated twelve million illegal immigrants in this country have the opportunity to rally for immigration reform. Two years ago, the turnout nationwide was staggering. More than one million people packing the streets and bringing traffic to a standstill. Chicago alone had four hundred thousand people. But yesterday they were nowhere to be found.
In Tucson, Arizona, only about 500 turned out yesterday, compared to 12,000 last year. In Los Angeles, a few thousand, nothing close to the 500,000 in 2006. And the streets in Phoenix were empty yesterday... no signs of the activists and banners of the last two years.
Gone too were the calls for a nationwide boycott of businesses and work. The Spanish-language D.J.'s who had heavily promoted previous marches, for the most part, stuck to regular programming yesterday.
So why the change? Some say growing deportation fears kept folks home. The United States deported almost 300,000 people last year, a 44% increase over the previous year. Others say it was because of the stalled effort in Congress to revamp the immigration law.
And then there's the heated race for the White House. The immigration issue seems to be lost in other political headlines. The top concern for voters overwhelmingly is the economy, not immigration.
Here's my question to you: Is illegal immigration less important to you than it was two years ago?
Interested to know which ones made it on air?
Linda writes:
Let's see,
1. Food prices up at least 50%.
2. Gasoline at $3.65 per gallon.
3. Deficits that my great-grandchildren will be paying off.
4. Children and grandchildren of my friends dying for nothing in Iraq.
Immigration of any stripe does not even make the list. My biggest concern is whether or not we will be able to return the village idiot to Crawford, TX before the damage he does is totally irreversible.
Larry from Ohio writes:
Jack, this is one the most important issues to me. I have absolutely nothing against legal immigration. After all, we are a country of immigrants. But to allow illegal immigration to go on without enforcing the laws is just crazy. Just way too expensive!
Paul from Louisiana writes:
There is no way to really stop illegal immigration. They will always find a way. What we need to do is punish people and companies found hiring illegal immigrants. Heavy fines and prison time for those responsible would help stop it.
Brian from Cincinnati, Ohio writes:
So why the change? You forgot one reason. Our economy is getting to be so bad it's not worth it anymore for a lot of illegals to remain here. After paying for their living expenses here there isn't enough to send home to be worth it, so many are self-deporting. The irony is the border may very well be sealed up at the rate things are going. Not by us, but by Mexico and Canada. To keep us out.
J.W. from Atlanta, Georgia writes:
Immigration to me comes in fourth behind the economy, the war, and stupid chief executives.