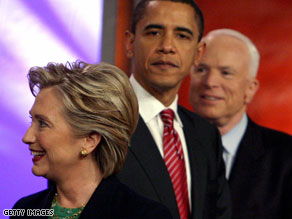 FROM CNN's Jack Cafferty:
Over the course of the campaign, Americans' views of the top three candidates have changed some. According to a Gallup poll done in late April, here are some of the qualities associated with each:
John McCain: he's "too old, he's a "good man, likable," he would give the country more of the same - be another George Bush, and he has a "good military background." And the number of people who view him favorably are about equal to the number who don't like him.
When it comes to Hillary Clinton, the most common perceptions are that she is dishonest or not trustworthy, past scandals or baggage associated with her husband, the former president, that she is qualified, capable, and strong.
But the number of people who have a negative view of her, 55%, is almost twice the number that view her favorably, 30%. Barack Obama is viewed slightly more positively than negatively, 42% to 39%.
People see him as young and inexperienced but with new ideas. He is also seen as lacking substance-all talk and no action. People disagree with his religious views (Thank you Rev. Wright) and he is seen by some as an "elitist" or "snob," although those views are not widely held.
He is also, of course, much better known now than when the campaign began.
Here's my question to you: How has your perception of the three major presidential candidates changed during the course of the campaign?
Interested to know which ones made it on air?