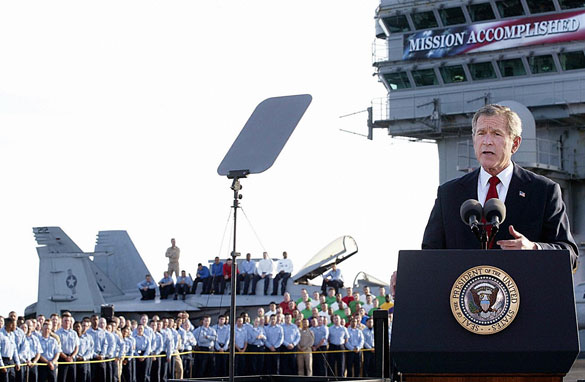 President George W. Bush addressing the nation aboard the nuclear aircraft carrier USS Abraham Lincoln May 1, 2003. (PHOTO CREIT: GETTY IMAGES)
FROM CNN's Jack Cafferty:
Mission Accomplished... so read the banner prominently displayed behind President Bush on the flight deck of the USS Abraham Lincoln five years ago today.
Bush appeared in a flight suit before a cheering crowd and announced "Major combat operations in Iraq have ended." I wonder if he would like to tell that to the families of the more than 50 U.S. troops who died in Iraq during the month of April, the deadliest in seven months. And this month's first fatality has already been recorded.
The war is now in its sixth year. We have lost 4,064 troops, many of them killed long after the president announced that major combat operations were over.
Only the Vietnam War, the war in Afghanistan, and the Revolutionary War have lasted longer than the war in Iraq.
Tens if not hundreds of thousands of Iraqis have been killed and millions have been displaced. The Iraqi army which was supposed to be able to stand on its own by 2006, is pretty much worthless. During one recent battle more than 1,000 Iraqi soldiers simply ran away leaving the fighting to their countrymen and the Americans.
Today U.S. and Iraqi troops are engaged in fierce fighting against Shiite militants in Baghdad's Sadr City, a battle that began in March. More than 900 civilians and militants have died since that fighting began.
The White House admits that it has "paid the price" for the "Mission Accomplished" banner. But not nearly as high a price as the men and women of our armed forces.
Here's my question to you: What will it take to accomplish the U.S. mission in Iraq?
Interested to know which ones made it on air?
Colin from Hayden, Idaho writes:
Jack, we already accomplished the mission several accomplishments ago. Saddam is no longer in power, there were no WMD, the Iraqis held elections, and they elected a government. If completing the mission means eliminating every last terrorist, we may as well declare Iraq the 51st state. For every terrorist we kill, we exponentially create more. Bush's idea of a democracy in Iraq is a Starbuck's on every corner and Iraqi soccer moms hauling the kiddies around in a Chrysler mini-van.
Courtney from South Windsor, Connecticut writes:
To quote Yogi Berra, "Be careful. If you don't know where you're going, you might not get there." If you could refresh me on what our mission was supposed to be and currently is, I might take a stab at this question. As it stands, I see only one action that could ever be deemed an accomplishment when it comes to Iraq…complete troop withdrawal. Now.
Mike from Syracuse, NY writes:
Jack, the time line depends on what you declare the mission to be. If it's enough stability for us to declare victory and leave without total chaos resulting, that's probably a few years away. If it's turning Iraq into a stable democracy, then we need several generations. Japan and Germany had little or no democratic experience prior to the end of WWII. It took a generation of occupation to change the populations' mind-set. It can be done, but the American public hasn't got the patience to get the job done.
Dan from Chantilly writes:
It's kind of hard to answer that with Bush changing the definition of "victory" every couple of weeks. If we're looking to make a stable and peaceful democracy, then no, we can't accomplish that. If we're looking to just extend this out until January and then blame the new guy (or girl) when it all falls apart, then yes, we're on track for that.
Don from South Bend, Indiana writes:
We need to secure the borders of Iraq to stop the constant new insurgency from the outside. Then we need to flush out all of the insurgents that are there, and defeat them. It's very sad, because we can't afford to be there, and we can't afford not to be there.