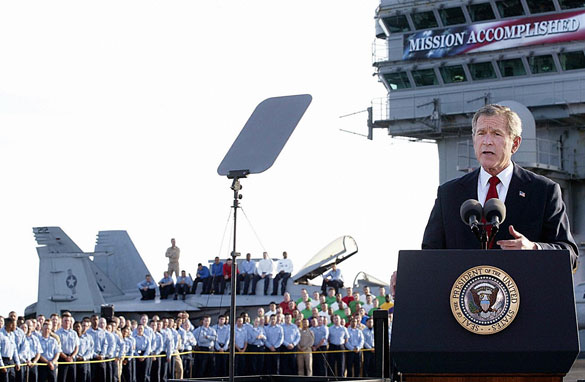 President George W. Bush addressing the nation aboard the nuclear aircraft carrier USS Abraham Lincoln May 1, 2003. (PHOTO CREIT: GETTY IMAGES)
FROM CNN's Jack Cafferty:
Mission Accomplished... so read the banner prominently displayed behind President Bush on the flight deck of the USS Abraham Lincoln five years ago today.
Bush appeared in a flight suit before a cheering crowd and announced "Major combat operations in Iraq have ended." I wonder if he would like to tell that to the families of the more than 50 U.S. troops who died in Iraq during the month of April, the deadliest in seven months. And this month's first fatality has already been recorded.
The war is now in its sixth year. We have lost 4,064 troops, many of them killed long after the president announced that major combat operations were over.
Only the Vietnam War, the war in Afghanistan, and the Revolutionary War have lasted longer than the war in Iraq.
Tens if not hundreds of thousands of Iraqis have been killed and millions have been displaced. The Iraqi army which was supposed to be able to stand on its own by 2006, is pretty much worthless. During one recent battle more than 1,000 Iraqi soldiers simply ran away leaving the fighting to their countrymen and the Americans.
Today U.S. and Iraqi troops are engaged in fierce fighting against Shiite militants in Baghdad's Sadr City, a battle that began in March. More than 900 civilians and militants have died since that fighting began.
The White House admits that it has "paid the price" for the "Mission Accomplished" banner. But not nearly as high a price as the men and women of our armed forces.
Here's my question to you: What will it take to accomplish the U.S. mission in Iraq?
Interested to know which ones made it on air?