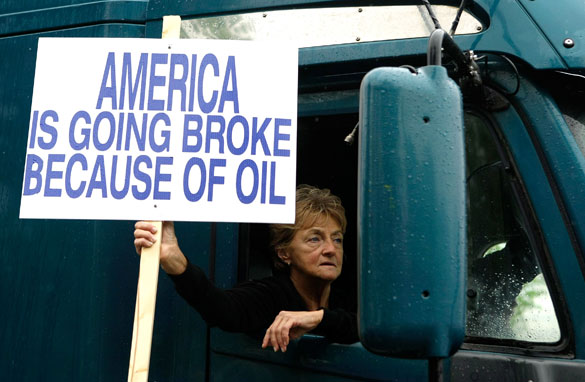 A woman holds a sign during a protest against high fuel price with other truck drivers April 28, 2008 in Washington, DC. (PHOTO CREDIT: GETTY IMAGES)
FROM CNN's Jack Cafferty:
44% of Americans in a recent survey said paying for gasoline was a serious problem for them. Gasoline costs were the most frequently cited economic concern across all income levels. 25% of people who make more than $75,000 per year said it's a serious problem while a whopping 63% of folks who earn less than $30,000 feel that way.
The cost of gasoline far outranks the number two economic concern, getting a good paying job or a raise at 29% and paying for healthcare and health insurance at 28%. The survey was conducted on behalf of the Kaiser Family Foundation.
And all indications are it's going to get worse before it gets better. As gasoline shoots past $4 per gallon in some parts of the country, the president of OPEC is predicting crude oil prices could hit $200 per barrel. A year ago average gas prices were less than $3 per gallon according to AAA.
One idea being tossed around as a way of dealing with this is the four-day workweek. Several states are considering it. Staggered work schedules would be necessary in order to keep government offices open five days a week, and some have suggested that would end up costing the taxpayers more money. It's also an idea that may gain traction in the private sector. I, for one, think it's a terrific idea.
Here's my question to you: Would shifting to a four-day workweek be a good way to save fuel?

Interested to know which ones made it on air?
Jenny writes:
I doubt it Jack. I am not sure how much of a problem the commute to work is. For me it's the after hours driving and the weekend driving that gets me. Taking kids to sports activities, piano lessons, dance lessons, as well as frequent stops at Wal-mart are what get me. Usually when I get to work, I am there from 8 a.m. to 4:30 pm and my car does not move.
J.D. from New Hampshire writes:
People who are a whole lot smarter than me need to be working around the clock, seven days a week to develop energy technologies other than oil. But to your question, if you happen to be lucky enough to have a job, a four-day workweek makes sense. I guess in this new world we must cancel all vacations, too. What a shame kids will miss out on the family road trips we used to endure.
Sandy from Ohio writes:
Jack, a four-day workweek could be a real solution. Studies show not much is accomplished on Friday anyway as everyone is looking towards the weekend. Cutting one day of commuting out of everyone's budget would lower the demand for fuel and save people money not to mention what it could do for greenhouse gas emissions.
Tina writes:
Maybe some where else in the country. Here in Texas, they will not give up their big SUV's or trucks and gas could go to 50.00 a gallon and the fools will still be out driving. We don't have the bus service or tram service like most cities. Most of us have to drive 30 miles or more to get to work.
Brandon from Bloomington, Indiana writes:
The idea of having a four-day workweek would be great indeed. But the assumption that this would save more gas is preposterous. If you want to save gas move closer to your job, stop commuting for half an hour, and stop feeling like you're entitled to getting cheap gasoline. No one ever talks about how much all the rest of the world is paying for gas.
E. writes:
This idea has been shown not to be correct. Just because someone isn't driving to work doesn't mean that they aren't driving to the mall!