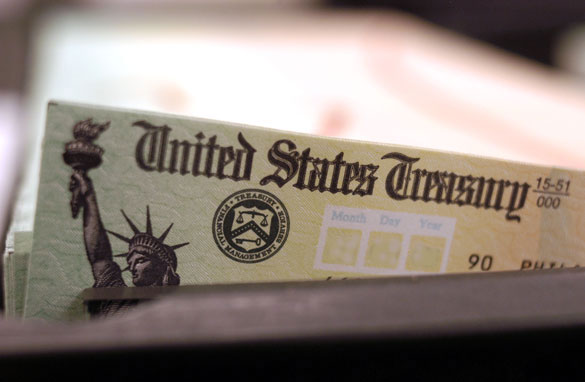 (PHOTO CREDIT: GETTY IMAGES)
FROM CNN's Jack Cafferty:
The federal government began sending out checks to taxpayers this week as part of its economic stimulus plan.
130 million payments totaling more than $110 billion will eventually be made to citizens who filed a tax return for 2007. The minimum amount is $300 with $600 going to single taxpayers who earned less than $75,000 and $1,200 going to couples who earned less than $150,000. Uncle Sam will also pay $300 for each child under the age of 17.
The idea is to give our sagging economy a shot in the arm. Officials hope people will spend the check as opposed to using the money to pay down debt or simply saving it. But surveys indicate most folks will send it to the credit card companies, put it in their gas tanks, or stick it in the bank.
Retailers smell all this money and are already announcing promotions designed to get you to come to them so they can empty your pockets of all this additional dough.
But at the end of the day how much impact this will have on an economy that is likely already in recession is questionable.
It's important to remember this is an election year, and this was one of the very few items both parties could agree on in Washington all year long. The politicians figure tossing bread crumbs to the masses creates the impression they care what happens to any of us. I seriously doubt it.
Here's my question to you: How much of a difference will the stimulus checks make to our economy?
Interested to know which ones made it on air?
Courtney from South Windsor, Connecticut writes:
I thought stimulation was meant to spur people into action. The only thing this so-called stimulus package is going to do is help thousands of Americans beat back the bill collectors for a few more days. We're going to stay exactly where we are instead of hemorrhaging more money into useless pursuits like this one.
George writes:
Not as much impact as the president would like for it to. The economy would get a much larger boost if he would put windfall taxes on the oil companies and get rid of the tax cuts for rich folks.
Mary writes:
The stimulus checks hopefully will help the American people. They won't solve the critical issues that are facing this country. They won't stop the ridiculous rising of crude oil that is putting a burden on all drivers that depend on gas to run their vehicles. But, having something is better than nothing and we need to believe that the new presidential candidate will make a start in steering America in a more positive direction.
Jack writes:
We are Americans. Of course we will spend the money! I think a small portion of the recipients will save or put it towards debt, but the majority will spend the money in some fashion. I think most will spend it on travel and summer vacations. Either way, this will not affect the economy because housing is still a huge problem and high oil prices and inflation are a larger problem than anyone credits.
Jerry from Roselle, Illinois writes:
I think I'll just put it in my savings account and get that one percent interest going. Then maybe I can help by giving it to the future George W. Bush presidential library. Can't believe I just said that.
Bridgette writes:
My stimulus check is going to my bankruptcy lawyer. If that is going to stimulate the economy, more power to them.