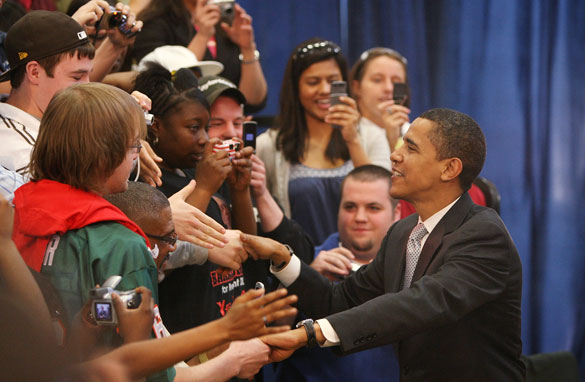 Sen. Barack Obama greets supporters during a campaign event in Reading. Pennsylvania. (PHOTO CREDIT: AP)
FROM CNN's Jack Cafferty:
Exactly one week from today and again the nomination will pretty much be sitting there for Barack Obama's taking. Win Indiana and win North Carolina by an even bigger margin and the remaining undecided superdelegates will likely start breaking his way in big enough numbers to mark an end to this marathon. But if he loses Indiana to Hillary Clinton, questions about Obama's electability will linger.
He's got to find a way to do better in Indiana than he did in Pennsylvania among blue collar voters. The superdelegates want to see that he is not out of touch with a big piece of the democratic base. Pennsylvania hurt Obama, Clinton painted him as an elitist. And his words about people being bitter stuck to him and pulled him down.
Some people inside Obama's campaign told the New York Times he is bored with these primaries and is anxious to move on to the general election campaign against John McCain. But Indiana looms large. He can't afford another Pennsylvania.
Here's my question to you: With one week until Indiana and North Carolina, what does Barack Obama have to do to recapture his momentum?
Interested to know which ones made it on air?
Bob from Richmond, VA writes:
He hasn't lost it Jack. His delegate lead is virtually unchanged. He is still picking up superdelegates at a two-to-one- ratio over Clinton despite her 'big win'. One week from tomorrow, you will be asking us (rightfully) how can Clinton recover her momentum? I can answer that one now too – she can't recover something that she never had.
Kim from Palo Alto, California writes:
He now needs the help of the superdelegates who do support him to openly declare themselves. I don't know why they are waiting. This would give/restore confidence to others who are not sure about him. I think the support of Edwards and Gore would also go along way and they should come forward.
Jenny from Rome, Georgia writes:
Jack. I do not know if it will help Obama recapture his momentum but if some one could please give the good Rev. Wright a one way ticket to the deserted island of his choice for the duration of the election, I for one would be grateful. He has yet again managed to hijack the issues that matter to this country with his own agenda. We need information on the issues not smart remarks and sermons from the Reverend
W. from Oregon writes:
As deep as Hillary is in a hole, amazingly, she just keeps digging deeper. Sen. Obama will continue to stand on the dirt she throws out of the hole and she will help him rise above it.
Grif writes:
It's a two horse race and they both have momentum. Leading to another two horse race he would have to win. John McCain is far ahead! Going further ever stop he makes.
Kathy writes:
I don't think he ever lost it.