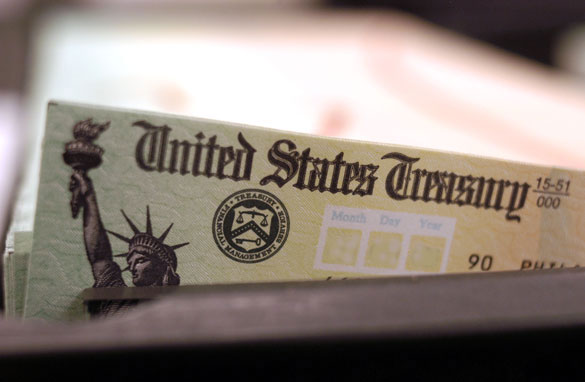 (PHOTO CREDIT: GETTY IMAGES)
FROM CNN's Jack Cafferty:
The federal government began sending out checks to taxpayers this week as part of its economic stimulus plan.
130 million payments totaling more than $110 billion will eventually be made to citizens who filed a tax return for 2007. The minimum amount is $300 with $600 going to single taxpayers who earned less than $75,000 and $1,200 going to couples who earned less than $150,000. Uncle Sam will also pay $300 for each child under the age of 17.
The idea is to give our sagging economy a shot in the arm. Officials hope people will spend the check as opposed to using the money to pay down debt or simply saving it. But surveys indicate most folks will send it to the credit card companies, put it in their gas tanks, or stick it in the bank.
Retailers smell all this money and are already announcing promotions designed to get you to come to them so they can empty your pockets of all this additional dough.
But at the end of the day how much impact this will have on an economy that is likely already in recession is questionable.
It's important to remember this is an election year, and this was one of the very few items both parties could agree on in Washington all year long. The politicians figure tossing bread crumbs to the masses creates the impression they care what happens to any of us. I seriously doubt it.
Here's my question to you: How much of a difference will the stimulus checks make to our economy?
Interested to know which ones made it on air?