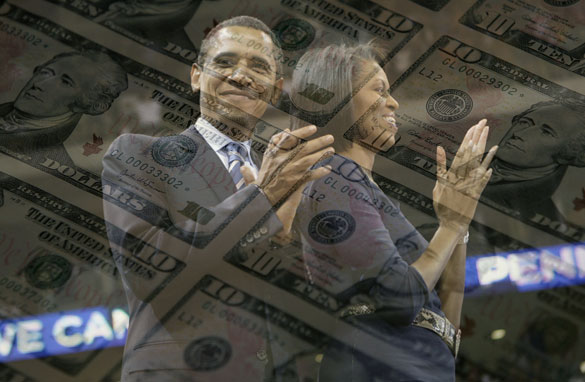 (PHOTO CREDIT: GETTY IMAGES)
FROM CNN's Jack Cafferty:
They're called "Hillraisers"...the people who raise the big bucks for Hillary Clinton's campaign. And based on recurring reports of money problems–unpaid bills, personal loans from the candidate, etc.–she can ill afford to lose any of them.
But NBC news was the first to report that Gabriel Guerra-Mondragon who has raised an estimated $500,000 for Senator Clinton is leaving to join Barack Obama's campaign as a member of his national finance committee. A formal announcement is expected this week. Guerra-Mondragon has reportedly become concerned about the increasingly negative tone of Clinton's campaign.
He is a former ambassador to Chile who was appointed by President Clinton in 1994 and joins a growing list of Clinton people who don't like what they see in Hillary's campaign. New Mexico Governor Bill Richardson and former labor secretary Robert Reich both are supporting Obama.
It's interesting to note that no one is leaving Obama's campaign to join Clinton.
Here's my question to you: What does it mean if one of Hillary Clinton's major fund-raisers is leaving to join Barack Obama's campaign?
Interested to know which ones made it on air?

Robert from Toronto writes:
Jack, if you look at the amount of people who have left the Clinton campaign for one reason or another for the past four months that should be more of an alarm to the superdelegates than any poll or news article. Hillary Clinton might say she's electable, but her own supporters aren't so sure.
Joe writes:
I believe Clinton's arrogance is such that "If I can't have it, neither can he" and people in the campaign are getting tired of it.
Jeremy from Williamsport, Pennsylvania writes:
It means as much as we are dismayed by the negativity coming from the Clinton camp, there are things going on behind the scenes that are so bad that even their closest and most loyal are saying, "I cannot get behind this anymore." Where there is smoke, there is fire. If Obama doesn't get the nomination, we'll be forced to choose between an angry, foul-mouthed senator or one who is so negative that even her own people have turned against her. Obama doesn't just talk about hope. He may represent our ONLY hope as a nation.
Ashley from Indiana writes:
It means absolutely nothing. Neither side will win or lose this race because of who is working on this campaign. The race will be decided by how people vote and I will bet most people won't even know that this went on. Obviously a large number of Americans like both candidates seeing as how this race is going on and if you ask any of them to name more than two people who work on their campaigns they wouldn't be able to do it.
Jeanne from Florida writes:
It means that a campaign strategist from Obama's campaign offered something more substantial after the election than the Clinton campaign had offered. Many campaign strategists are professionals who will move on after the election, but others hope to snag a little "west wing" action after the election.
Ron from San Diego writes:
Maybe he got offered better pay and benefits?