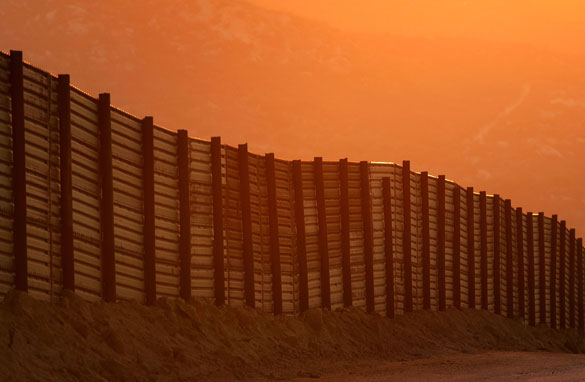 Dusk falls over a section of the US-Mexico border fence near Campo, California. (PHOTO CREDIT: GETTY IMAGES)
FROM CNN's Jack Cafferty:
President Bush once called it "the most technologically advanced border security initiative in American history."
He was talking about the "virtual fence," a twenty million dollar hi-tech detection device along the Arizona-Mexico border designed to keep illegal aliens from coming into this country. Trouble is it doesn't work.
Now the government is scrapping the prototype, just two months after Homeland Security Secretary Michael Chertoff approved it. The system is failing to alert border security agents of illegal crossings.
Agents began using the fence in December and it has been responsible for more than three thousand apprehensions. The problem is more than 3,000 illegal aliens enter the United States every day.
Time for Plan "B." The government will replace the virtual fence with a series of towers with communications systems, cameras and radar.
In case you're keeping track, 9/11 happened six and a half years ago. And since then in the name of national security the Bush administration has spied on Americans without a warrant, approved torture of terror suspects, ignored the Geneva conventions, made airline travel more complicated than going by covered wagon, invaded a sovereign country that had done nothing to us, and bankrupted the treasury. But they haven't secured the nation's borders.
In fact, illegal aliens with torches, hacksaws, ladders, and bungee cords have come right through miles of existing border fence. Holes in the fence are big enough for an average-sized woman to squeeze through.
And border agents in Texas, Arizona, and California often have to repair the same sections of the existing fence every day.
Here's my question to you: Why in the years following 9/11 has the government refused to secure our nation's borders?
Interested to know which ones made it on air?