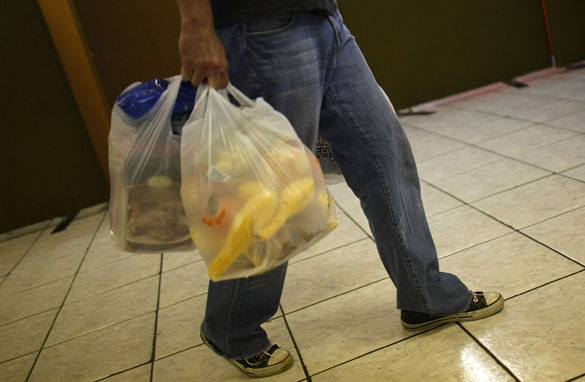 A man walks out of the Cristo Vive church with food supplies handed out to the needy March 5, 2008 in Hialeah, Florida. (PHOTO CREDIT: GETTY IMAGES)
FROM CNN's Jack Cafferty:
The United States is known as "the breadbasket of the world." We have always had plenty of food, and it's always been cheap. Suddenly, not anymore.
A new USA Today-Gallup poll shows 73% of us are worried about rising grocery bills, and almost half say food inflation is causing a hardship for them.
Suddenly sharply rising food prices are right up there with the 80% of Americans who are concerned about record-high gasoline prices. According to AAA, the average price of a gallon of unleaded gas is now $3.53.
The government says that food inflation has been running at a 5.3% percent annual rate in the last three months. The largest price increases are for items like white bread, milk, eggs and bananas.
While higher prices are hurting Americans, they can wreak havoc in other parts of the world – places like Haiti, Pakistan, Egypt and India. The United Nations says that high food prices could mean more than 100 million people will go hungry.
Shortages and hoarding of some items are also leading some stores in the U.S. to ration food. Reuters reports Sam's Club is limiting sales of various kinds of rice "due to recent supply and demand trends." And it's been reported that a Costco warehouse in California is limiting purchases of flour, rice and cooking oil.
Here's my question to you: How much of a concern are rising food prices in your household?
Interested to know which ones made it on air?