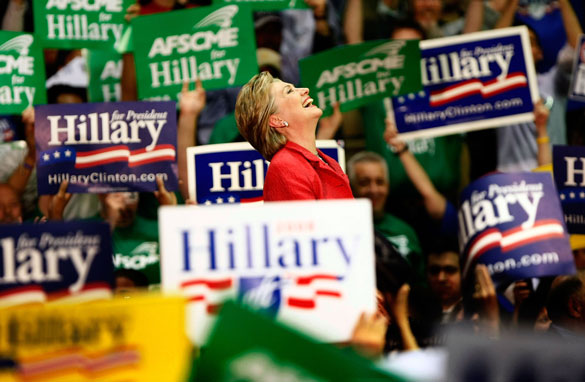 (PHOTO CREDIT: GETTY IMAGES)
FROM CNN's Jack Cafferty:
The winner of today's contest may not necessarily be the candidate who gets the most votes. In other words, all eyes will be on the margin of Hillary Clinton's victory, provided that she wins as expected.
The Los Angeles Times suggests Clinton could win but still lose. If Obama keeps the results closer than expected, he could be considered the winner. Some uncommitted superdelegates say Clinton needs to win by at least 10 points to show she hasn't lost her touch among working-class voters in a state like Pennsylvania.
If Clinton can pull that off in a state where she was outspent by more than 2-to-1, she can then try to persuade uncommitted superdelegates to support her. But if Obama keeps it close or delivers an unexpected win, the pressure will mount on Hillary Clinton to give it up.
Hillary Clinton is in trouble. A recent poll shows Democrats, by 2-to-1, think Obama is the best candidate. Some Democratic elders are starting to call for the nomination process to end sooner rather than later. She is behind in number of pledged delegates, the popular vote and the number of states won – and her once commanding lead among superdelegates is down to fewer than 30 ahead.
Insiders tell the New York Daily News the only way Clinton will drop out soon is if she loses today in Pennsylvania and runs out of money. Speaking of which, it's reported that Clinton's campaign is in debt to the tune of several million dollars.
Here's my question to you: If Hillary Clinton doesn't win Pennsylvania by at least 10 points, should she quit the race?
Interested to know which ones made it on air?

Allan from Cameron Park, California writes:
No, she should wait until all the primaries are over at least. I hope Clinton wins. She is the only one who can turn things around. Obama is an "empty suit". He has no record of accomplishment, and will be eaten alive by the RNC.
Carol from Knoxville, Tennessee writes:
Hi Jack, Everyone who has followed this campaign knows if the positions were reversed, this would have been over 6 weeks ago. The Clinton machine would have seen to it. If she had 28 states, more of popular vote, more delegates and he had won the big states, they would have screamed foul! She will be taken out in a straight-jacket kicking and screaming with Bill right behind her! And they wonder why young people get disillusioned with politics!
Robert from Forest, Virginia writes:
Jack, Neither Hillary Clinton nor Barack Obama can drop out of the Democratic primary at this point. Given their positions in history as the first woman and first African-American to have a chance to win the Democratic presidential nomination, I think they will have to take this all the way to the convention.
Harry from Kentucky writes:
C'mon, Jack, why should she drop out? This is a woman who is behind in every statistical category except number of pantsuits, yet insists that she is more electable. Besides, given her and Bill's recent track record, would we really believe her if she did say she was dropping out?
Lori from Iowa writes:
No, Jack, she should not quit if she does not win by more then 10 points. She wins, but she loses....sounds like some great logic there. The point is she would win another large electoral college state, Jack. She can win the big states....the die-hard Democrats want a Democrat in office. Why would anyone want her to quit just because she is winning?
Carrie from Detroit writes:
Jack, The sensible thing would be to check into an old folks home, along with Bill and take James Carville for company.