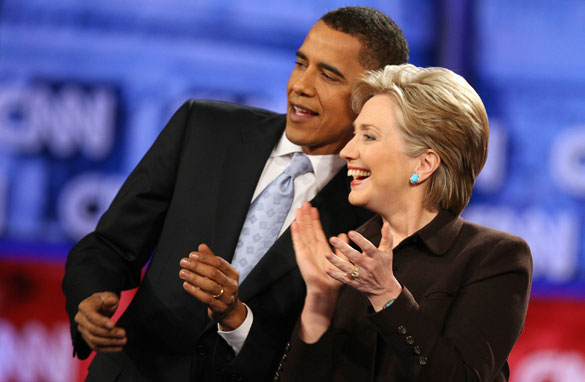 (PHOTO CREDIT: GETTY IMAGES)
FROM CNN's Jack Cafferty:
The race between Hillary Clinton and Barack Obama has gotten so nasty that it's hard to imagine the two ever teaming up on a so-called "dream ticket." But some Democrats are holding out hope for just that.
The New York Times reports how several high-profile Democrats, like Former New York Governor Mario Cuomo and Pennsylvania Governor Ed Rendell, along with some of the uncommitted superdelegates think it's a good idea. Their thinking is it would combine the voter bases of both and be a way to end the nomination race before the party's convention in August.
Aides from the two campaigns don't rule it out, but there are some serious roadblocks. To start with, Clinton and Obama probably can't wait to be done with each other. Obama's camp believes Clinton's baggage and her campaign's negative tone would hurt his message of hope. And the Times, citing unnamed sources, reports former President Bill Clinton thinks the Obama campaign has portrayed him as a race-baiter and bare knuckles campaigner.
Some Clinton aides say she would almost have to offer Obama the V.P. position because of his popularity. And at this point, either candidate could argue they have the right of first refusal on the number two spot.
History gives examples where politicians managed to put their dislike for each other aside for the greater political good. JFK picked LBJ as his running mate, Ronald Reagan selected George Bush and John Kerry chose John Edwards. After all – in the end, it's all about winning, isn't it?
Here's my question to you: Do Hillary Clinton and Barack Obama each owe the other one a spot on the ticket?
Interested to know which ones made it on air?
Barbara from North Carolina writes:
Why would someone of his stature lower his ethics and even ask her? Doesn't make sense to me. I'd rather not vote if her name is anywhere near the ballot. Enough lies and enough Clintons. Make them go away.
M.R. from North Carolina writes:
I don't know what they owe each other, but if they can work together for the betterment of our country then they certainly owe it to the American people.
Gary from El Centro, California writes:
I think there have been too many attacks of a personal nature for them to be able to go forward as a team. Had they kept it to policy differences, maybe, but the road they have gone down does not lead to peace and harmony between the two of them.
D. from Washington writes:
Jack, Not at all. Both of them have been so polarizing that I would actually dread seeing that team in the White House together. Now, one using the other on policy matters or having a seat at the table is a different matter. I'd welcome that. For a unifying spot on the ticket, let's consider Sen. Edwards.
Lori from Michigan writes:
They both have moved beyond the point of considering the other on the ticket. There would be more pressure for Hillary to put Obama on the ticket, but I'm sure he would decline. Hillary wouldn't give Obama anything important to do but follow Bill around and make sure he stays out of trouble.
Norm in Massachusetts writes:
No, but they "owe" the country. They talk about "fair" all the time. What I see as fair is both on the ticket. Half the Democrats want one, half want the other. If the DNC had any common sense, they would demand it! So you two put aside what squabbles you have and do what is right... soon!
Lori writes:
No. If she were his V.P., he'd have to have a food tester.