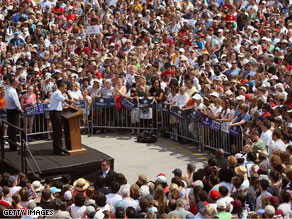 FROM CNN's Jack Cafferty:
After a 6-week lull, we will actually get to hear from the voters tomorrow when Pennsylvania holds its long-awaited and much publicized primary.
The stakes are enormous. If Obama wins, Hillary Clinton may be asked by the party leaders to stay home and bake cookies. If Clinton wins – as she's expected to – the battle moves to Indiana and North Carolina.
Both campaigns are hedging expectations about tomorrow's results in Pennsylvania. An average of recent polls shows Clinton with about a seven point lead. Political experts have been saying Clinton must win Pennsylvania by double-digits for her campaign for the nomination to remain viable. Her supporters, not surprisingly, beg to differ. Clinton has vowed to carry her campaign all the way to the convention.
The two candidates have spent tons of time and money in Pennsylvania, although Obama has outspent Clinton by perhaps as much as 3-to-1.
If he's unable to get the support of blue-collar workers, it could make some uncommitted superdelegates question how strong he'd be in the general election.
Meanwhile, The Politico reports that the historic spike in Democratic voter registration could help Obama cut into Clinton's lead in Pennsylvania. One pollster has taken a look at people who have switched parties in order to vote Democrat this time around. They represent about 7% of the 2 million Democrats expected to turn out tomorrow... and 62% of them prefer Obama. This pollster says these voters could help Obama cut Clinton's margin of victory by 2 to 3 percentage points.
Here's my question to you: Who has the advantage on the eve of the Pennsylvania primary, Barack Obama or Hillary Clinton?
Interested to know which ones made it on air?
Peter from Fairview, Texas writes:
Neither has the advantage. When they leave Pennsylvania, neither will have won much more then half the delegates in the state therefore neither will be any better off. If Hillary Clinton does not win by a very large margin, she will have nothing to offer the superdelegates as far as why she should be the nominee over Obama.
Barbara from Hazleton, Pennsylvania writes:
Jack, Of course Clinton will have the advantage with roots in Pennsylvania, but it won't matter anyhow –she's not going to be the Democratic nominee when all is said and done. It'll be Obama.
Tom in Greenville, South Carolina writes:
It is Hillary, substance over charisma in a big way.
Lynn from Tennessee writes:
Jack, Hillary has a slight advantage in Pennsylvania but in the long run I believe Barack Obama will get the nomination and hopefully the election in November. Her ad that came out today featuring among others Osama bin Laden shows what a fear mongerer she really is, and that is not something needed in this country at this time.
Michael writes:
Jack, I am a retired business agent, and there is tremendous pressure on the union members to tow the leadership line publicly. I believe the rank and file in the privacy of the voting booth will break for Obama. I am voting for Obama as is my wife, and by the way my union has supported Clinton.
Mary writes:
Hillary has the advantage, but it is not going to help her. We are angry and bitter out here even if you media pundits won't acknowledge it.