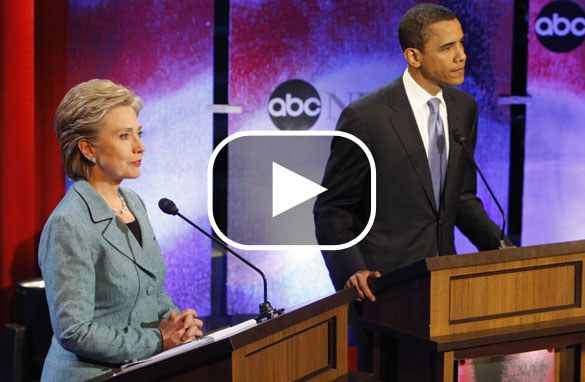 Click the Play Button to see what Jack and our viewers had to say. Democratic debate hosted by ABC in Philadelphia, Pennsylvania, April 16, 2008. (PHOTO CREDIT: GETTY IMAGES)
FROM CNN's Jack Cafferty:
It's crunch time in Pennsylvania. Hillary Clinton and Barack Obama are down to their last weekend of campaigning before Tuesday's primary.
And the stakes couldn't be much higher – especially for Clinton. The latest average of polls taken there shows her ahead of Obama by just 5 points, down sharply from the double-digit lead she had held for months.
Although Clinton is expected to win, the key is by how much. The Wall Street Journal reports anything less than a double-digit victory could make Obama appear more and more like the inevitable nominee. This could also trigger a flow of superdelegates into Obama's camp. On the other hand, a strong Clinton win might persuade superdelegates to at least stay neutral a while longer.
Experts say Clinton needs to win in Pennsylvania by at least 8 to 10 points in order for voters in the other upcoming states – like Indiana and North Carolina – to see it as a real victory.
A loss in Pennsylvania could be the end for Clinton, putting a lot of pressure on her to drop out. New Jersey Governor and Clinton supporter Jon Corzine says a loss would be a "door closer." He calls it a key state because she needs to win the popular vote. Clinton aides point out they've been outspent by Obama by as much as 3-to-1 in the state and if he can't deliver, it's another sign he can't win big states.
Meanwhile, polls show that after 6 weeks of intense campaigning in Pennsylvania, about 9% of voters are still unsure who they'll support.
Here's my question to you: In this last weekend before the Pennsylvania primary, what do Barack Obama and Hillary Clinton have to do to win over late undecided voters?
Interested to know which ones made it on air?
V.J. from Oswego, Illinois writes:
Jack, If there are still undecided voters out there, they have probably voted for the wrong candidate all their lives. So do all of us a favor and stay undecided until say, next January, and let the rest of us make the decision for you. Most of us made up our minds about 19 debates ago, long before the gun-shooting, shot-tossing, bitter beer drinking, fiery words preaching, and gutter ball rolling started.
Sue from Bloomington, Indiana writes:
I'm not sure either one can win over the undecideds at this point. With Clinton's negativity and untruthfulness and the perception of the Obama 'bitter' remarks, the people who haven't made up their minds yet may just stay home, which will not be good for Clinton.
Jenny from Georgia writes:
Keep Bill and the preacher on short leashes.
Deb from Pennsylvania writes:
I am a 53-year-old white woman from Lebanon, a blue collar town in central Pa. I also own a hand gun and hunt. I would like to see Obama win here. He needs to stay in the state from now through the primary and stay on message. When people meet him, they like him. That's how he can win PA.
Bob from Pittsburgh writes:
How can anyone still be undecided? Don't they read the papers, check the internet, listen to TV, talk to their friends? Anybody that is undecided at this point shouldn't be allowed to vote.
Angela writes:
Cry.....
Bryan writes:
If either were to simply shut up for a few days, that may sway a few of those undecided voters as it would be a sign of change we could all get behind.
Andrew from Peoria, Illinois writes:
Jack, it is quite simple, really. They need to have Cheney's joke writers put something together for their next stump speech. After all, if they can make that guy look human, let alone funny...then they can work wonders for Barack or Hillary.