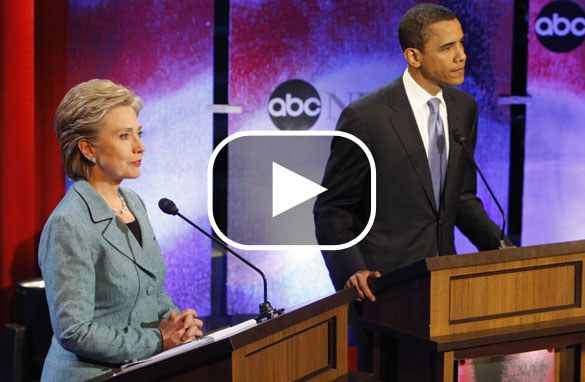 Click the Play Button to see what Jack and our viewers had to say. Democratic debate hosted by ABC in Philadelphia, Pennsylvania, April 16, 2008. (PHOTO CREDIT: GETTY IMAGES)
FROM CNN's Jack Cafferty:
It's crunch time in Pennsylvania. Hillary Clinton and Barack Obama are down to their last weekend of campaigning before Tuesday's primary.
And the stakes couldn't be much higher – especially for Clinton. The latest average of polls taken there shows her ahead of Obama by just 5 points, down sharply from the double-digit lead she had held for months.
Although Clinton is expected to win, the key is by how much. The Wall Street Journal reports anything less than a double-digit victory could make Obama appear more and more like the inevitable nominee. This could also trigger a flow of superdelegates into Obama's camp. On the other hand, a strong Clinton win might persuade superdelegates to at least stay neutral a while longer.
Experts say Clinton needs to win in Pennsylvania by at least 8 to 10 points in order for voters in the other upcoming states – like Indiana and North Carolina – to see it as a real victory.
A loss in Pennsylvania could be the end for Clinton, putting a lot of pressure on her to drop out. New Jersey Governor and Clinton supporter Jon Corzine says a loss would be a "door closer." He calls it a key state because she needs to win the popular vote. Clinton aides point out they've been outspent by Obama by as much as 3-to-1 in the state and if he can't deliver, it's another sign he can't win big states.
Meanwhile, polls show that after 6 weeks of intense campaigning in Pennsylvania, about 9% of voters are still unsure who they'll support.
Here's my question to you: In this last weekend before the Pennsylvania primary, what do Barack Obama and Hillary Clinton have to do to win over late undecided voters?
Interested to know which ones made it on air?