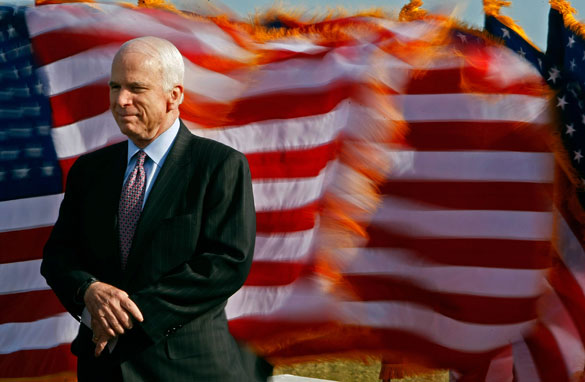 (PHOTO CREDIT: GETTY IMAGES)
FROM CNN's Jack Cafferty:
Here's something you may not know about the Republican presumptive nominee John McCain: he's very superstitious.
The Washington Times reports on some of McCain's more well-known rituals. For example, he won't throw a hat on a bed – bad luck. He carries a lucky feather - wonder what that's for, a lucky compass, and a lucky penny, nickel and quarter. One staffer says he had so many coins at one point "it was like a change purse in his pocket."
And the senator's superstitions are rubbing off on some members of his campaign staff. One top adviser says he grew a beard during the 2000 campaign and didn't shave it until the race was over. He says he's probably doing the same thing this time around. Another adviser says when someone recently mentioned winning the general election in November, three staffers immediately knocked on wood so not to jinx anything.
If elected, McCain wouldn't be the first superstitious president. FDR used to invite his secretary along if there would be 13 people at a dinner and he never traveled on the 13th day of the month. And Ronald Reagan carried around a lucky coin and gold charm with him, knocked on wood, and never walked under ladders.
Here's my question to you: Is it a plus or a minus for a president to be superstitious?
Interested to know which ones made it on air?
Jayne from New Hampshire writes:
John McCain's superstitious nature is the least of my worries about him and it most certainly does nothing for his candidacy. It was bad enough when the Reagans consulted an astrologer. We don't need black cats, step ladders, the number 13 and salt over the shoulder in evidence anywhere near the Oval Office. The McCains should retire and write cookbooks.
Tom from Boston writes:
It's a plus. I just wish George Bush had read the tea leaves. They were saying "stay the hell out of Iraq!"
Erin from Kalamazoo, Michigan writes:
So using this logic, how many mirrors had to break in this country to bring us these last seven years?
Jim writes:
Superstition is no less valid than religious, astrological, or other metaphysical beliefs. They all require about the same amount of evidence (none!).
Steve writes:
I would rather have a strong, confident president who doesn't need luck and the good grace of invisible spirits to win. I associate superstition with a negative attitude toward science and an overall lack of intelligence, and using McCain as an example does not violate this association.
Phil writes:
In McCain's case, I think it is interesting he can remember all of his little superstitious trinkets, but not the difference between Sunni and Shiite.
Joy writes:
Who cares if a president is superstitious or not? I can handle some quirks like lucky pennies and not walking under ladders if the next president can remedy the mistakes of the last 8 years. In the meantime, I'll knock on wood for that.
Pat from Florida writes:
A superstitious president? And what happens if we have a terrorist attack on a Friday the 13th? The president calls 1-800- my-psychic?
Ryan from Grosse Pointe, Michigan writes:
Jack, Please tell me that one of your interns came up with this needless question. I hope it wasn't actually you who wanted to ask this on cable news.