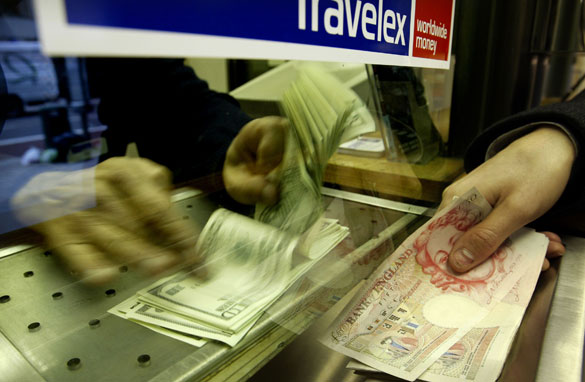 A cashier at a Travelex Bureau de Change counts U.S. Dollars in exchange for British pounds in London. (PHOTO CREDIT: GETTY IMAGES)
FROM CNN's Jack Cafferty:
The growing cost of the Iraq war is one of the main reasons our economy is struggling.
Congressman John Yarmuth of Kentucky said in the Democrat's weekly radio address that the Iraq war, now in its sixth year, has cost the U.S. more than half a trillion dollars. Yarmuth says the conflict is quote "not only linked to our economic skid, but is a leading cause of it." He highlighted the crumbling infrastructure here at home while taxpayers fund an Iraqi government quote "riddled with waste, fraud and corruption."
A recent poll found 71% of Americans think that our spending on the war is a reason for our economic problems.
Meanwhile, a piece in today's New York Times looks at where else the U.S. could spend the estimated $1 to $3 trillion the war in Iraq could end up costing.
At the low end of the estimates of about 120 billion dollars a year... the money would pay for the projected cost of Hillary Clinton's universal health care plan. Or it could pay for Barack Obama's health care plan and his proposed bailout of homeowners submerged in the mortgage crisis. Or, it could pay for developing new renewable energy sources to get us off Mideast oil and a national public works program. Or, it could go toward a long-term fix for Social Security... or the unpaid part of Medicare… and on and on and on. Instead it's being used to finance a war that is going nowhere.
Here's my question to you: How much is the Iraq war to blame for the state of the U.S. economy?
Interested to know which ones made it on air?
Brian from Pennsylvania writes:
When I stop to think what we could have done with the hundreds of billions of dollars the U.S. has spent there, it makes me sick. Had we forgone our follies in Iraq that money could have been spent to truly destroy Al Qaeda, improve our foreign relations and standing in the world, develop alternative fuels to reduce or eliminate our dependence on Middle Eastern regimes, provide healthcare to ALL Americans, update our straining infrastructures, as well as pay down a chuck of the national debt-and still have money left over!
Mike from writes:
The "downturn" in the economy, if there is one, has nothing to do with Iraq and everything to do with the sub-prime lending issue. The mortgage meltdown has its roots in the Carter administration's Community Reinvestment Act that was strengthened by Clinton. It forced lenders to make risky loans to poor credit risks or be prosecuted by the government for discrimination. This worked fine as long as prices kept rising. But once the bubble burst, people defaulted on loans they should not have taken in the first place.
Karen from Idaho writes:
Hi Jack, The Iraq war has certainly slurped up money that could have been better spent on things here at home. The decline of our economy, however, is the result of the great "sell out" to China, India, Mexico, and all of the other places that absorbed American companies. Our jobs are gone, our factories are gone, our ability to achieve the American dream is gone.
John from Montana writes:
Let me think... We lower taxes and increase spending? Our national infrastructure is in shambles (along with our middle class.) The Soviet Union went bankrupt in Afghanistan, we are about to do the same in Iraq.
David writes:
The war has not helped, but the primary cause of the economic problems is an epidemic of indulgence in America. We have ourselves to blame. We are a buy now, pay later society. The Iraq war has not forced any of us to tap out our home equity and go on a buying spree.