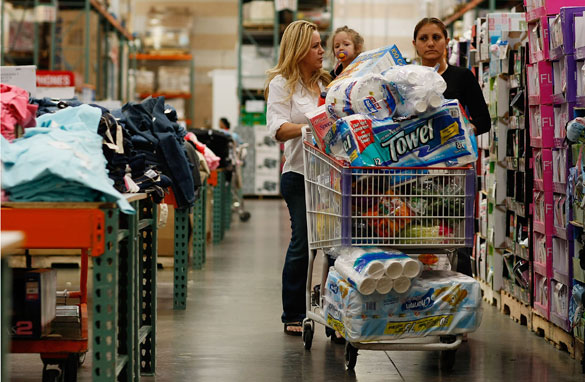 (PHOTO CREDIT: GETTY IMAGES)
FROM CNN's Jack Cafferty:
A new survey out paints a pretty bleak picture of middle class America today, which is no surprise when you take into account falling house values, increased costs for food, energy, health care, education and growing unemployment.
The Pew Poll finds that 54% of those who describe themselves as "middle class" – which is more than half of this country – say they are no better off than they were 5 years ago. That's the worse outlook in more than 40 years.
53% say they've had to cut spending because money is tight. 18% say they've had troubling getting or paying for medical care, and 10% say they've lost their jobs.
And, the view for the future isn't much better. In the coming year, half of the middle class surveyed say they think they'll have to cut more spending. 25% of those employed are worried they'll be laid off, and 26% are concerned their salary or health benefits will be cut.
When asked who's to blame for their economic problems, 26% say it's the government's fault, 15% blame the price of oil and 11% say the people themselves are responsible.
Meanwhile, don't look for positive economic news on the horizon. The majority of economists polled by The Wall Street Journal say the U.S. economy has farther to fall. By a 3-to-1 ratio, they say our economy is in a recession, and almost three-quarters say we haven't hit the bottom yet.
Here's my question to you: Who's to blame for an increasingly discouraged middle class?


Interested to know which ones made it on air?
Bert from Oak View, California writes:
Dear Jack, The highest levels of our government are responsible for the stealing from our middle class. They have looked the other way and allowed employers to cheat, by hiring illegal aliens, which depressed wages throughout the economy and even stole jobs from many sectors of our society. It came from the top because it was easier to make the rich richer and exploit illegals, than it was to pay our legal middle class reasonable wages.
Terry from California writes:
Families purchased homes they could not afford and now look what is happening. Did anyone take budgeting 101 prior to signing on the dotted line of their mortgage documents? If you are generating X dollars each month and spend more than what you generate in income, then obviously it is your own stupidity that created your woes. The American dream is more like "I want it all and I want it now," thus creating an economic foreclosure nightmare, which impacts all of us.
N. writes:
Bush, of course, and the fact that he favors large corporate interests as well as those of the wealthy in our nation instead of the people. As old as I am and as long as I have lived, this is the absolutely hardest I have ever had it financially. No one expects this at my age.
Jen from Pennsylvania writes:
We are, Jack. Most "middle class' Americans that I know are trying to live like they are Hollywood millionaires, or at the least, knock-offs. They consume junk, live way beyond their means, and don't bother to save a dime. The sad thing is, they're mortgaging their children's futures.
Okey writes:
The voter... for re-electing the same pandering, corrupt corporate puppets back into Congress every term. Vote 'em out, or live with it.