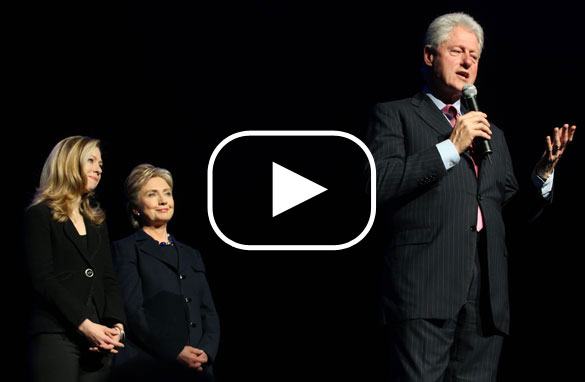 Click the Play Button to see what Jack and our viewers had to say. (PHOTO CREDIT: GETTY IMAGES)
FROM CNN's Jack Cafferty:
Just when talk about Hillary Clinton's tale from the tarmac in Bosnia was starting to die down, Bill Clinton decided to bring it up again.
Speaking in Indiana, the former president defended his wife's lie about "landing under sniper fire" during that 1996 trip.
He said that she made the comment "one time late at night when she was exhausted, misstated - and immediately apologized for it." Bill Clinton added that he believed Hillary was the first first lady since Eleanor Roosevelt to go into a combat zone and that the media treated her like she'd "robbed a bank", suggesting "some of them, when they're 60, they'll forget something when they're tired at 11 at night, too."
So now we have the former president lying about his wife's lie. Hillary Clinton made the comments about the Bosnia trip numerous times, not just once and not just "late at night." Once she told the fictional sniper fire tale early in the morning. In fact, it took about a week for her to correct herself – saying she "misspoke" and "made a mistake." And the Eleanor Roosevelt claim is bogus as well, since Pat Nixon traveled to Vietnam in 1969.
So why would a skillful politician like Bill Clinton re-ignite an issue that hurt his wife? You'd think he would know better. Unless it wasn't an accident.
In fact, Clinton brought up the Bosnia issue twice yesterday.
Hillary Clinton has since told her husband to knock it off. She said, "You weren't there. Let me handle it." His response? "Yes, Ma'am."
Here's my question to you: Why would Bill Clinton voluntarily bring up the story of his wife's trip to Bosnia?
Interested to know which ones made it on air?