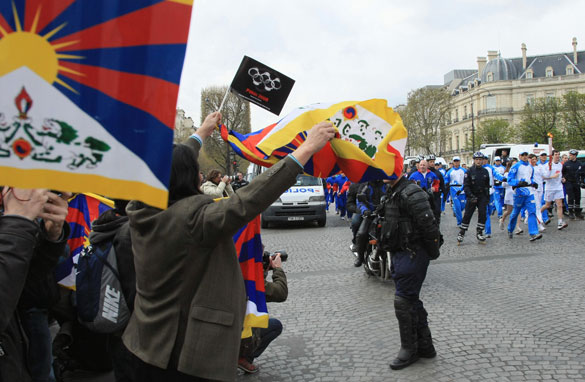 Protestors wave Tibetan flags while an athlete runs with Beijing Olympics torch, on April 7, 2008 in Paris. (PHOTO CREDIT: GETTY IMAGES)
FROM CNN's Jack Cafferty:
A "crisis" is how the president of the International Olympic Committee describes the protests that have surrounded the torch relay.
But Jacques Rogge insists the torch relay will go on – despite protests in London, Paris and San Francisco which have focused on China's human rights record, its crackdown on Tibet and its close relationship with Sudan. He says the IOC has weathered many bigger storms, like the murder of the Israeli athletes in Munich in 1972 and the boycotts in 1976, 1980 and 1984.
However, Rogge says the committee will reconsider holding this kind of international relay for future Olympic Games.
He also called on China to honor its pledges to improve human rights and give foreign journalists unfettered access – a rare critique of the Communist country coming from the IOC. China shot right back, saying the committee should keep its nose out of its internal politics.
The torch has now arrived in Buenos Aires, Argentina, where there will be a relay tomorrow. It then moves on to 14 more cities in Africa and Asia before returning to China in August.
One IOC member has suggested that the p.r. nightmare that followed the flame this year may make it the last time for an international relay.
Here's my question to you: In light of what's happened in London, Paris and San Francisco, how should officials handle the remainder of the Olympic torch tour?
Interested to know which ones made it on air?
Jim writes:
They should continue as they've been doing. Footage of police battling protesters is a completely appropriate image of China.
Linda writes:
Get rid of the torch tour, get rid of the torch, get rid of the Olympics! It's all become way too political anyway.
Jason from New York writes:
They should remind protesters that this is just a torch. Everyone knows what's going on in Tibet, and trying to extinguish a flame on a giant metal stick will not solve anything.
Ryan from Champaign, Illinois writes:
The Olympic committee should take the flame directly to Tibet and protect it, along with the Tibetan people.
Dan from Chandler, Arizona writes:
Suggestion for the IOC: instead of reconsidering whether or not it will allow torch relays in the future, why don't they reconsider awarding the Olympic Games to communist countries with long histories of human rights abuses? Seems like a pretty easy decision to me.
Bianca writes:
The Olympics is probably the biggest p.r. event China could ever hope to have. The international relay is a great idea because it shows how frustrated the world is at how China is handling its internal affairs. This could be the pressure many have hoped for to make China give more freedoms.
Chris from Swansea, Mass. writes:
Jack, I'll bet ten-to-one that all the protesters were wearing clothing or shoes made in China.