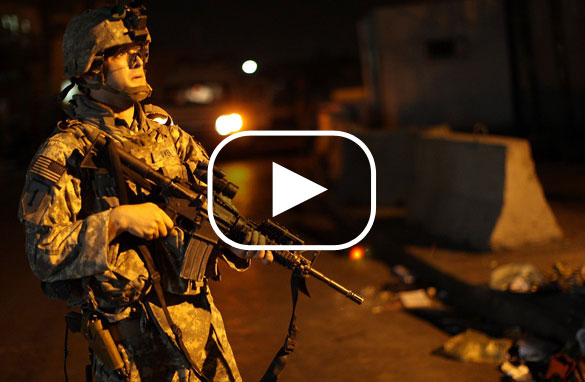 Spec.Chad Owen of the 2nd Brigade 1st ID participates in a night patrol in Baghdad, Iraq. Click the Play Button to see what Jack and our viewers had to say. (PHOTO CREDIT: GETTY IMAGES)
FROM CNN's Jack Cafferty:
To Americans who want to end the war in Iraq, a Democratic president is the only answer. Or is it? Hillary Clinton and Barack Obama are both promising to withdraw U.S. military forces from Iraq if either is elected. If McCain wins, forget about it. He says we might be in Iraq a hundred years.
The thing is it might turn out to be easier for McCain to keep us in Iraq than for Clinton or Obama to get us out. This George Bush abomination is now in its sixth year. And the quicksand just gets deeper.
Iraq is no closer now to being a true functioning democracy capable of providing for its own security than it was five years ago. And the outlook for meaningful progress is awful. Both General David Petraeus and Ambassador Ryan Crocker describe the country as being in a fragile state and warn that security gains could vanish if troops leave too soon. See Basra without the British.
Meanwhile, former Secretary of State Colin Powell says the next president will have to face the reality that the U.S. has to reduce troop levels in Iraq and Afghanistan. At the same time, Powell warns that there will be limitations, "None of them are going to have the flexibility of just saying we're out of here, turn off the switch, turn off the lights, we're leaving. They will have a situation before them."
The unsettling fact is we might not be able to leave without either handing Iraq over to Iran or setting off a tribal war that will end in genocide.
Here's my question to you: How likely is it that the next president, whether Republican or Democrat, will pull U.S. troops out of Iraq?
Interested to know which ones made it on air?
Patricia writes:
Only the soldier can end this war. I know my answer is not the one anyone can understand, but only Gen. Petraeus can stop this war. And until he gets the guts to tell Bush & Co. enough is enough, those men and women will continue to die.
Sharon from Minnesota writes:
The best shot we have is with Clinton. She's the most reasonable candidate, and besides a woman is more peace-loving than most men.
Mitchell from Arkansas writes:
Obama. It's gonna take dialogue with Iraq's neighbors to begin pulling out our troops. Most of them would like to see us leave anyway. Let them take responsibility for keeping the peace. We had no business occupying Iraq after winning the war!
Scott writes:
America just needs to explain to the Iraqi government: "Look here Iraq, our job is done here. We have toppled your ruthless dictator and given the country to the people. Now it's up to you. We can no longer afford to move forward and mediate your civil war. The American economy is sluggish, the dollar has fallen, hundreds-of-thousands have lost their homes, a recession is on the horizon, and energy costs are forcing our citizens into a tight financial corner. So, Iraq, so sorry we have to go home and take care of our people.....see ya." It's that simple.
Tim writes:
It's not as likely as many might hope. A quick withdrawal from Iraq would mean mass killings, genocide, and a future of oppression with no foreseeable end. I don't understand how Hillary or Obama could be that heartless.
Ray from Lubbock, Texas writes:
Nancy Pelosi could have months ago if she'd only had the starch.