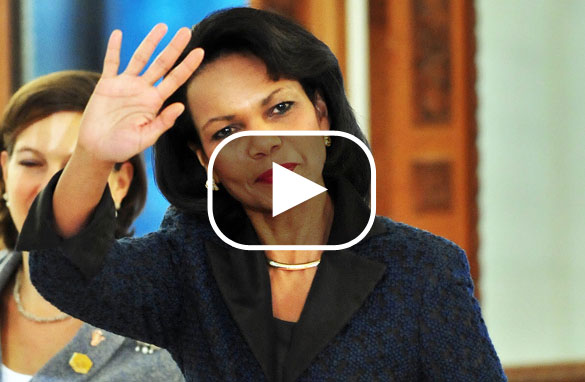 Click the Play Button to see what Jack and our viewers had to say. (PHOTO CREDIT: GETTY IMAGES)
FROM CNN's Jack Cafferty:
Turns out Secretary of State Condoleezza Rice might be interested in being John McCain's vice president after all... despite her numerous claims in recent years that she has no plans to run for office.
Republican strategist and former Bush aide Dan Senor stirred the pot yesterday, when he told ABC news that Rice has been "actively" campaigning for the number two slot in recent weeks. Senor says that she's been cozying up to the Republican elite, like an appearance before Grover Norquist's group of economic conservatives. Senor suggests Rice's experience would make her a prime candidate and the McCain campaign wouldn't need to waste time introducing her to the American people.
When asked about Rice's lobbying for the job, McCain said he "missed those signals", but went on to compliment Rice, calling her a "great American" and adding that there's very little but "utmost praise" he can give for someone who served as a role model to millions of people around the world. Right.
One little problem: McCain has been critical of the way the Bush administration has handled the war in Iraq and said Rice, who was national security adviser for the first year and half, bears some responsibility for that.
Some would suggest McCain would have to be crazy to put anyone associated with the Bush administration on his ticket, that it will only lend to the Democrats' argument against a third Bush term. But having an African-American woman on the ticket could make things really interesting in the general election against either Barack Obama or Hillary Clinton.
The State Department today denied Rice is interested in the job,saying that if she's actively seeking the position, "she's the last one to know about it."
Here's my question to you: Would you be more or less likely to vote for John McCain if Condoleezza Rice is his running mate?
Interested to know which ones made it on air?
Terry from Hanover, Virginia writes:
Less likely. Ms. Rice is the same woman who didn't bother to read the intelligence reports on Al Qaeda until 9/12/2001. She's part of the worst administration in the history of the United States. If she's McCain's VP, come November we'll see the closest thing to a unanimous election for president - for the Democrats!
John writes:
Less. Now Colin Powell is a secretary of state who I could see as a running mate!
Terry from Austin, Texas writes:
There is no way. McCain is already Bush II, and with Rice, NO WAY. She has done nothing for this country; all she has been is a servant to Bush.
Mark from Berwyn, Pennsylvania writes:
If Hillary is his opponent, I'll vote for McCain regardless of his VP running mate. But if Obama is the Dem candidate, I would need Condi on the ticket to vote for McCain over Obama. My hope would be that McCain retires after one term and Condi is the president for the next 8 years.
Elizabeth from Harwich, Massachusetts writes:
Every time I see Condoleezza Rice I remember the "mushroom cloud" she told us was threatening.
Bob from Centerville, Ohio writes:
I would be equally apt to vote for a McCain/Rice ticket as I would a McCain/Limbaugh ticket.
Marie from Charleston, S.C. writes:
I think she is well-qualified to be VP or President, should she want to do that one day. That being said, there is almost nothing that would make me vote for the party that has given us the last 7 years and, in particular, for a person (in Condoleezza Rice) who is key to the current administration.
Bonnie writes:
Jack, I wouldn't vote for John McCain if you were his running mate. And I like you (most of the time). Condoleezza Rice is another Bush robot. Not what we need after 8 years of Bushies. She has done nothing to help the image of the U.S. and more to destroy it.