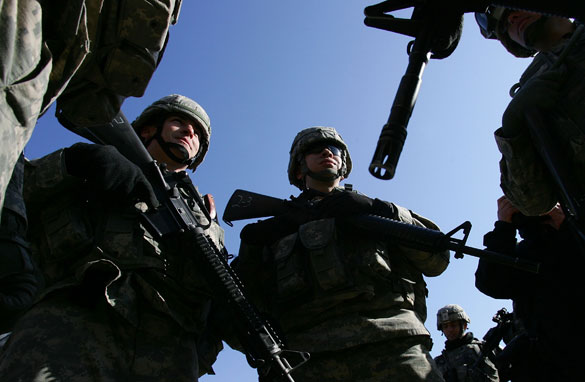 U.S. Stryker Brigade Combat Team. (PHOTO CREDIT: GETTY IMAGES)
FROM CNN's Jack Cafferty:
The war in Iraq comes to Washington this week. General David Petraeus and Ambassador Ryan Crocker are set to give two days of testimony to Congress on the progress of the war starting tomorrow. President Bush is then expected to address the nation on Thursday, and talk about the future of Iraq as well as the administration's decision to reduce combat tours of duty from 15 months to 12 months.
The highlight of the two days of testimony will no doubt be the questioning of Petraeus and Crocker by the three candidates for president, all senators. Out on the campaign trail, you have John McCain, who has said the U.S. could be in Iraq for 100 years... versus Hillary Clinton and Barack Obama, who insist the war hasn't made the U.S. safer and want to pull our troops out.
As the war grinds on, our military forces continue to be stretched thinner. Consider this: one out of every eight new soldiers now requires a waiver to join the Army either because of a criminal record or other past misconduct. That's a number that has more than doubled since 2004. One top military official told USA Today it's because of the difficulties the Army faces attracting young people to join during a time of war. Officials insist that the military has granted waivers without hurting the quality of recruits.
Another depressing sign of the state of our military is this: the percentage of high school graduates among Army recruits is down from 91% in 2001 to 79% last year.
Here's my question to you: What's the future of the U.S. military if one in every eight new Army recruits requires a conduct waiver?
Interested to know which ones made it on air?
Patricia from Boise, Idaho writes:
Jack, It means we're not sending our best and our brightest. We all know that without a draft, we can't get enough people willing to go and die to liberate Iraq from itself. We're happy with warm bodies so our military can claim that they're not having trouble keeping the surge alive.
David from Natchez, Mississippi writes:
This is not a bad thing, Jack. This is an opportunity for these people to turn their lives around. I was one who got this opportunity a long time ago and it made a big difference in my life.
Ted from Beaverton, Oregon writes:
Not a problem at all. They just get referred to Blackwater, where they can put their bad conduct to full use protecting Americans from all those pesky unarmed Iraqis. Whatever happened to that investigation anyway?
Edward writes:
As an officer in the U.S. military, I can tell you that the young men and women that I lead into combat are some of the finest young men and women this country has. I know that some of them have a past that has to be accounted for before they can join and serve their country. The military offers these young men and woman a chance to put that past behind them and do something great, serve their country and better themselves.
Keith writes:
I will have served 5 years in the military in August and new recruits are taking a rough turn. More and more 18-year-old, brand new soldiers come in with medical conditions that make them undeployable, and training is getting easier and easier just trying to push soldiers through… It seems as long as you can walk in the graduation ceremony, you pass and it forces the units to have to instill the discipline in these soldiers.
Tim writes:
Jack, A better question: What does the future hold for our country if one in eight requires some sort of waiver? These young Americans represent the future for us all (no matter what profession they chose!).