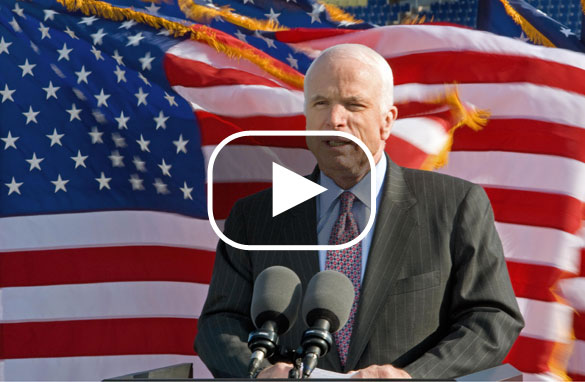 Sen. John McCain speaks at the Navy and Marine Corps Memorial Stadium today in Annapolis, Maryland. Click the Play Button the see what Jack and our viewers had to say.(PHOTO CREDIT: GETTY IMAGES) 
FROM CNN's Jack Cafferty:
Telling the American people they are cynics may not be the best way to get them to vote for you for president... but that's what John McCain is doing.
In a speech at the U.S. Naval Academy in Annapolis, Maryland today, the presumptive Republican nominee talked about the reasons why he thinks many Americans have become cynical about our country. He says for some, it's because of the state of our economy. For others, it's a reaction to the government's mistakes and incompetence. But McCain thinks that in some cases the cynicism isn't a reaction to feeling let down by the government, country or social institutions, but rather a result of people taking this country and the liberties it provides for granted.
He says that for some Americans, their idea of liberty is "the right to choose among competing brands of designer coffee." McCain says if Americans find fault with our country, they should make it a better one. He also calls on people to take on a greater cause than themselves, by doing things like joining the military, running for public office or helping feed the hungry.
There is also an update when it comes to McCain's age and health status... his campaign is now saying the candidate's medical records will no longer be released by April 15th as they had previously promised. Instead, they're now saying we should see that stuff "sometime in May."
Finally, James Dobson, a leading conservative and founder of "Focus on Family," in a personal letter to the Wall Street Journal says, "I have seen no evidence that Senator McCain is successfully unifying the Republican Party or drawing conservatives into his fold."
Here's my question to you: Is it helpful to John McCain's campaign to say Americans are cynical about their country?
Interested to know which ones made it on air?