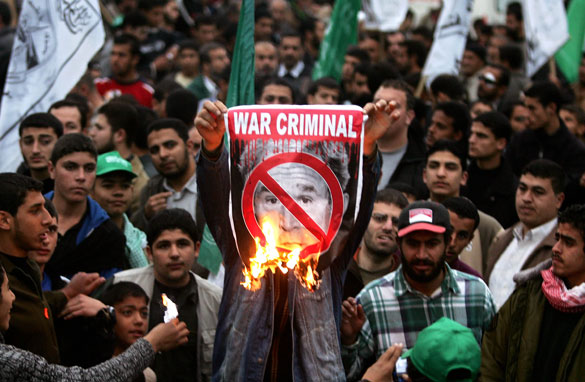 (PHOTO CREDIT: GETTY IMAGES)
FROM CNN's Jack Cafferty:
When it comes to the Axis of Evil, a little diplomacy can go a long way. According to the latest Gallup Poll the number of Americans who view North Korea as our greatest enemy has dropped by half in the last year. In fact, North Korea isn't even any longer in the top three. Thanks to diplomatic agreements reached concerning their nuclear weapons program, the percentage of Americans viewing North Korea as our biggest threat has dropped from 18% to 9%.
North Korea's Axis of Evil partners, Iran and Iraq still top the enemies list. 25% of Americans see Iran as our biggest enemy and 22% say it's Iraq.
Who's the new number three? China with 14%. North Korea has dropped to number four with its 9% rating. Number five is a tie between Afghanistan and us! That's right, 3% of the people surveyed see the United States as its own worst enemy.
The Russian bear is hardly in the game. Our number one nemesis for all the years of the cold war is only considered our worst enemy today by 2% of Americans.
Here's my question to you: What country do you think poses the biggest threat to the United States?
Interested to know which ones made it on air?

Al from Lawrence, Kansas writes:
It's the country of Kool-Aid. If 25% name Iran and 22% say Iraq, that means 47% of Americans are still drinking the stuff.
Robert from North Carolina writes:
China Jack...They will destroy us without firing a shot and they know it...They have started an assault on the American economy and work place...Twenty years from today we will be nothing better than a run of the mill European country...China on the other hand, will be the world leader in manufacturing, breaking all kind of business profit records...It's time for America to wake up and smell the coffee...We could lose our country and never know we were at war.
Mike from Syracuse, New York writes:
Jack,
It's not a country, it's a movement, specifically extreme Islam. They will do anything to advance their agenda, which is world conversion. The vast majority of so-called mainstream Muslims are unwilling or incapable of controlling the extremists. Eventually, they'll get their hands on nukes or biological weapons. When they do, 9/11 will seem like a picnic.
Chris from Chicago, Illinois writes:
I'd have to say China, Jack. While Iran is a bit of a worry, they don't stack up to China in terms of military strength, need for resources, and economic clout. Not only has China been fervently upping its military espionage, but they're an enormous country with an insatiable thirst for resources. The need for resources not available through trade has driven many countries through the centuries towards invasions and full on wars.
Dick writes:
I pick Cuba. If that country did not have so many loyal Republicans in Florida Al Gore would have won the 2000 election and George Bush would be baseball commissioner.
Peter writes:
Washington. Who else?
Kel writes:
"America will never be destroyed from the outside. If we falter and lose our freedoms, it will be because we destroyed ourselves."
– Abraham Lincoln