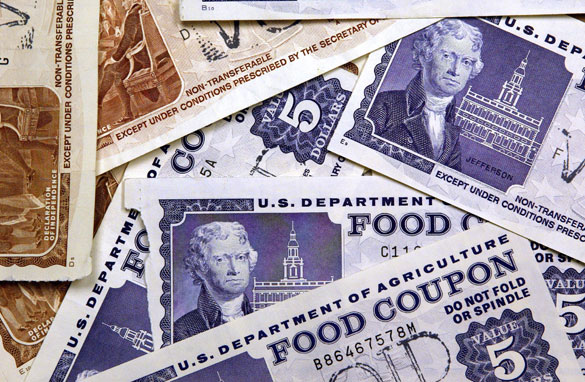 FROM CNN's Jack Cafferty:
Here's a heart-breaking statistic. We tout ourselves as the richest country in the world. But the number of Americans receiving food stamps is projected to reach 28 million this year.
The New York Times reports this is the highest level since the food stamp program began in the nineteen sixties.
The number of recipients around the country who have near poverty incomes to qualify for the aid are staggering. Fourteen states have seen record increases in the number of people on food stamps just since last December. Among them, Michigan, where it's one in eight, West Virginia where it's one in six, and Ohio, where it's one in ten. Of the 50 states, 40 saw their numbers rise with several of them actually seeing increases of ten percent or more.
While the federal government is bailing out failing investment banks like Bear Stearns, an estimated two million people are looking at the possible loss of their homes through foreclosure. Last month the U.S. economy actually lost sixty three thousand jobs. While the cost of food is expected to go up by four percent this year, and the average cost of a gallon of gas is three dollars and twenty nine cents... almost a dollar more than it was a year ago. Some experts predict $4 a gallon gasoline this Spring.
Here's my question to you: What's the answer to a record 28 million Americans being on food stamps?
Interested to know which ones made it on air?
Harold from Anchorage, Alaska writes:
Jack, America needs jobs. Good jobs. While Bush is bailing out big business, the middle class is left to lick up "tinkle down" economics. Perhaps a 21st century version of the CCC(a public works program) is in order; help out the people and rebuild our disintegrating infrastructure. We'd better do something soon while we've still got a country left to save.
Cookie from South Dakota wrties:
Jack, What a sad day for our country. 28 million need assistance to EAT!! We need to bring our troops home, stop illegal immigration, and STOP all aid to all countries and take care of our own. Bring back our jobs and no buying anything from China. Add tariffs to all products made elsewhere that are brought into our country. That would be a good start. Everyone needs to buy American products to bring more jobs to our people.
Bob writes:
How about more manufacturing jobs, Jack? I lost my job last year because we could no longer compete against off shore production and the lower prices they offer. In my job search, I have seen a significant amount of age discrimination. Being over fifty and unemployed is a scary place to be.
Jack writes:
The first question I would ask is how many of those 28 million are in this country illegally? They need to go.
David writes:
Simple Jack, quit spending millions in Iraq. Bring your troops home to help rebuild your failing infrastructure and have your brave men and women in uniform spend their well earned money in their home state and country.