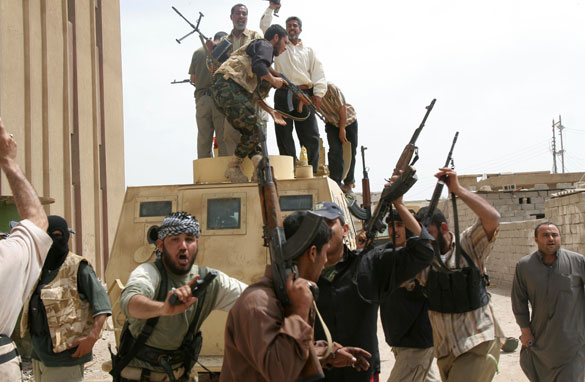 Iraqi Madhi army militiamen dance as they stand near a burning Iraqi army vehicle after attacking it on March 30, 2008 in the city of Basra. (PHOTO CREDIT: GETTY IMAGES)
FROM CNN's Jack Cafferty:
Iraq is back in the headlines and making its way back into the discussion on the campaign trail. A recent surge of violence in Baghdad and the southern city of Basra has revived the political debate over the war.
According to Iraqi officials, at least two hundred people were killed and another five hundred wounded just in Basra fighting since Tuesday. More than 100 were reported killed in Baghdad as of Sunday. This was the result of a U.S.-supported Iraqi effort to rid Shiite militias from the southern city of Basra.
The radical Shiite leader Muqtada al-Sadr called a truce yesterday between his Mahdi Army and Iraqi security forces. He wants concessions from the Iraqi government in return. And a curfew imposed by the government as a result of the fighting has been lifted for now. But the fighting could resume at any moment.
And the overriding question remains–is the surge in Iraq working? John McCain, who has staked his political fortunes on his support for the troop surge in Iraq, insists it is. He argues the recent uptick in violence is proof of the dangers of an early withdrawal of troops.
Senator Obama says the surge has decreased violence levels, but has not resolved the underlying tensions that exist in Iraq.
And Hillary Clinton says keeping U.S. troops in Iraq is a clear admission that the surge has failed.
Who is right?
Here's my question to you: How will the recent violence in Iraq affect the campaigns of the presidential candidates?
Interested to know which ones made it on air?
Paulette from Dallas, PA writes:
The surge temporarily quiets the violence but then it starts all over again. The U.S. is some place it is not welcome during a time that the country wants to engage in a civil war. They don't want political negotiations they want to have at each other. They will do this if the U.S. pulls out right now or if they wait 100 years. Let them get it over with and bring our military back home to their families.
Art from Nokomis, Florida writes:
Jack,
If the current increase in violence continues to escalate in Iraq, John McCain might as well go home to Arizona and take up golf. He might, however, still have a slight chance of beating either Mr. Can't-Do- Any-Wrong or Mrs. Evil. If he starts giving the public some real straight talk about Iraq instead of echoing the Bush administration's talking points. Iraq is not and never was the central front of Islamic terrorism. It is a civil war precipitated by the current administration's zeal to rush to war. Unfortunately, it's going to continue until one faction wins, regardless of what we do or how long we remain there.
Alan from Buxton, Maine writes:
It will probably have little or no effect. No one running seems to understand that the results will be the same if we are in Iraq for another year or another 50 years. There will be a bloodbath in either event. Bush set things in motion of which he and most of his advisers had no understanding. The ones who did were dismissed and ignored. The war was a mistake, is a mistake and will continue to be a mistake no matter what we do.
Kab writes:
Bad news from Iraq means bad news for McCain. No matter how much he tries to distance himself from Iraq war- Democrats are going to play his now unpopular "100 years war in Iraq" again and again.