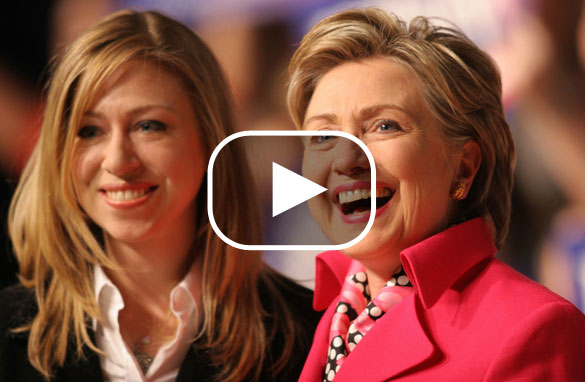 Sen. Hillary Clinton takes the stage with her daughter Chelsea before speaking at a fundraising event in Washington on Wednesday. Click the Play Button to see what Jack and our viewers had to say.(PHOTO CREDIT: GETTY IMAGES)

FROM CNN's Jack Cafferty:
Hillary Clinton is taking a hit when it comes to how Americans view her.
A new NBC News/Wall Street Journal poll shows Clinton receiving the lowest "positive" rating in this survey since March of 2001.
Only 37% of those surveyed say they have a positive view of Clinton compared to 48% who give her a negative rating. That's an 8 point drop in her positive rating in just the last two weeks.
Also, for the first time, this poll shows there are more women who have negative views of Clinton than positive, 44% to 42%.
As for Barack Obama, he gets a 49% positive rating and a 32% negative rating. One Democratic pollster calls this poll a "myth-buster", because it shows the Reverend Jeremiah Wright controversy is quote "not the beginning of the end for the Obama campaign."
When asked which candidate can best unite the country, Obama comes out on top with 60% compared to 58% for the Republican John McCain and 46% for Clinton.
Overall, these poll numbers suggest that the negativity of the Democratic battle for the nomination seems to be hurting Clinton more than Obama.
Here's my question to you: What does it mean if after all the campaigning Hillary Clinton's positive rating is the lowest it has been since 2001?
Interested to know which ones made it on air?
Susan from Baton Rouge, Louisiana writes:
It means that more than a year of campaigning has allowed the American people to see Hillary Clinton's true colors. Her lack of transparency, her repeated lies about experience, and her attempts to inject race into the campaign have given people a negative, albeit accurate, view of her.
Will from San Jose, California writes:
Rev. Wright makes controversial comments and Obama responds by speaking to the country on the progress and roadblocks of racial relations in the country. Clinton pads her resume in speeches with fictitious tales of bravery and when caught claims that she "misspoke". One of these responses is not like the other, one of these responses just cost the candidate 8 points.
Judy from North Carolina writes:
It means the media has done its job and yes, her Bosnia screw up hurt as well. The majority of the media has always been pro-Obama. The most qualified Democratic candidate may be going down.
Nora from Texas writes:
Negative campaigning, telling outright lies, trying to change the rules as you go along depending on how they will benefit you and only you, thinking that she had the nomination in hand as soon as she said I am running for president, like she was entitled to it. I think I could go on for a while. But, Jack, you know, everyone knows why she took this nose dive in the polls.
R. writes:
Sticks and stones, get a life folks! Thank God, we live in a country where candidates and the electorate can go negative without going violent. I hope Hillary campaigns to the convention. If we are truly as great a democracy as we claim, her efforts will highlight our nation's strengths in the end.
Nakisia from Albany, Georgia writes:
My father use to tell me that you are as "good as your word". As a child, I did not understand. In my teens, I understood it perfectly: tell the truth. I wish my father was still alive to talk to Hillary! She likes to lie, and every time she does it makes her look worse. Please don't say anything about her ratings taking a hit. I promise you. She will call it sniper fire coming down from the hill, and she will put her head down and run to the car.