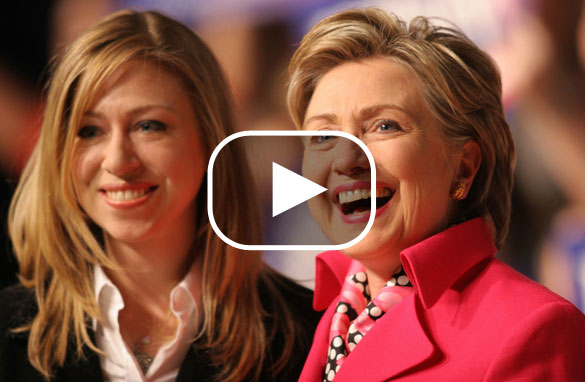 Sen. Hillary Clinton takes the stage with her daughter Chelsea before speaking at a fundraising event in Washington on Wednesday. Click the Play Button to see what Jack and our viewers had to say.(PHOTO CREDIT: GETTY IMAGES)

FROM CNN's Jack Cafferty:
Hillary Clinton is taking a hit when it comes to how Americans view her.
A new NBC News/Wall Street Journal poll shows Clinton receiving the lowest "positive" rating in this survey since March of 2001.
Only 37% of those surveyed say they have a positive view of Clinton compared to 48% who give her a negative rating. That's an 8 point drop in her positive rating in just the last two weeks.
Also, for the first time, this poll shows there are more women who have negative views of Clinton than positive, 44% to 42%.
As for Barack Obama, he gets a 49% positive rating and a 32% negative rating. One Democratic pollster calls this poll a "myth-buster", because it shows the Reverend Jeremiah Wright controversy is quote "not the beginning of the end for the Obama campaign."
When asked which candidate can best unite the country, Obama comes out on top with 60% compared to 58% for the Republican John McCain and 46% for Clinton.
Overall, these poll numbers suggest that the negativity of the Democratic battle for the nomination seems to be hurting Clinton more than Obama.
Here's my question to you: What does it mean if after all the campaigning Hillary Clinton's positive rating is the lowest it has been since 2001?
Interested to know which ones made it on air?