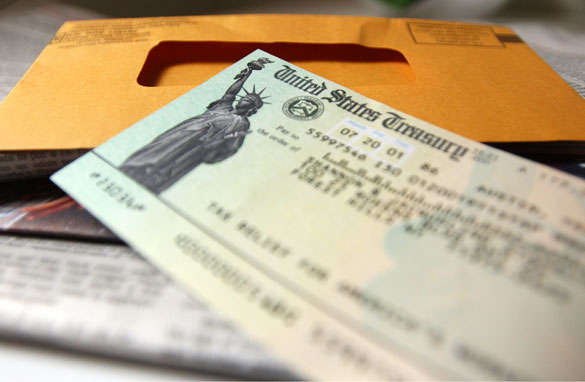 A tax payer rebate from New York City. (PHOTO CREDIT: GETTY IMAGES)
FROM CNN's Jack Cafferty:
When it comes to our ailing economy, you may remember how the Democrats and Republicans in Washington finally managed to work together quickly on something. They came up with that 170 billion economic stimulus package. The idea: to put money in the hands of ordinary Americans in the hopes they'll spend it to boost the economy.
Well, things may not work out as expected. A CNN/Opinion Research Corporation Poll finds that only 21% of those surveyed plan to spend their rebate check... of $600 for individuals who earn less than $75,000 and $1,200 for married taxpayers who earn less than $150,000 together.
32% say they'll save the money. 41% say they'll use it to pay off bills, and 3% say they'll donate it to charity.
In the past, taxpayers have spent half to two-thirds of their rebate checks, but today's unsure economic times may mean people are less likely to part with that money. However, the chief economist at Moodys.com says it's important to distinguish between what people say they'll do and what they actually do. He thinks taxpayers will end up spending two-thirds of their rebate checks.
Meanwhile, in yet another sign of tough economic conditions, it's reported that almost 1 in 10 people in Ohio now receives food stamps. That's the highest number in the state's history, with caseloads almost doubling since 2001. The factors to blame are those now familiar to many Americans: low wages, unemployment, and the rising cost of necessities like groceries and gasoline.
Here's my question to you: What do you plan to do with your rebate check?
Interested to know which ones made it on air?
Charles from Lansing, Michigan writes:
I will use mine to pay bills. I don't plan to go out and spend it on Chinese products and apparently 75% of the population plans the same. This so-called stimulus is all politics. If the money would have been spent on roads and bridges, thousands of jobs would have been created and we would have gotten something for our money.
Brian from Idaho writes:
Jack, My wife and I get discounted rent in June and July, only $300/month, so our rebate check is going to pay for two months of rent.
Marcus writes:
Cash it before the Democrats try to take it back.
Richard in Washington writes:
Nothing. I don't get a check this year. I sold investments; I had to pay off my mortgage. I get no reward for doing the right thing.
Sue writes:
Double it and use it to pay the tax on my Social Security payments, since I still have to work to keep a roof over my head.
Larry from Georgetown, Texas writes:
We plan to install new carpet in our bedroom and if there is enough left over buy a copy of your book, Jack.
Paul from Nashville, Indiana writes:
I'm going to use my rebate check to pay my bankruptcy lawyer.
Rex from Portland, Oregon writes:
I will take my friend Arlene out to Outback and feed her some rib eye steak and bloomin' onions. Then I will go to Radio Shack and purchase a new alarm clock made in China and hope that it works better than the last one. From there I will go to my favorite phone store and get that new Korean cell phone I have had my eye on for months. On the way home I will stop and fill my gas tank with Arabian gasoline and cry a lot. I shall top the day off with a dinner of New Zealand lamb, Chilean vegetables, Peruvian potatoes, and a delightful white wine from Sauvignon, and retire blissfully to my Swedish bed. Broke. God bless America.