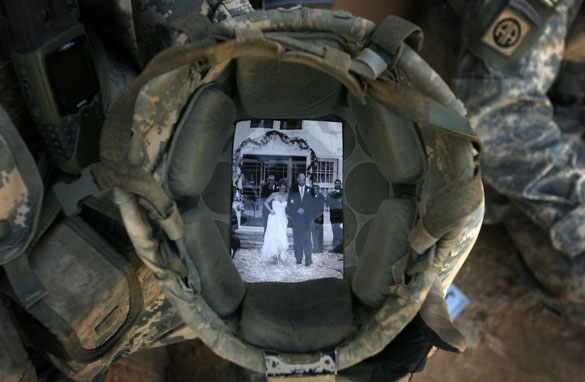 A wedding photograph of a US soldier affixed to the inside of his helmet from Ghostrider Company 3rd Squadron 2nd Stryker in Diyala Province, Baghdad, in March 2008. (PHOTO CREDIT: GETTY IMAGES)

FROM CNN's Jack Cafferty:
Forest Lake Area High School in Minnesota was all set to have some veterans of the wars in Iraq and Afghanistan come and talk to the students.
The event was billed as an academic classroom discussion around military service – teach the kids about military service in the context of their history classes. But suddenly the veterans were told, "Thanks, but no thanks."
Forest Lake Area High School principal Steve Massey said there were concerns the event was becoming political, instead of educational and that made it inappropriate for a public school. Translation: Massey got some calls from parents who complained, he buckled, and canceled the appearance by the veterans. The Star Tribune newspaper reports some parents had threatened to stage a protest if the visit by the soldiers went forward.
The visit was sponsored by "Vets for Freedom", a nonpartisan group whose mission is to educate the public about the importance of achieving success in Iraq and Afghanistan. The head of the organization, who graduated from Forest Lake Area High School and served in Iraq, calls it "extremely unfortunate" that a school would bow to political pressure and not bring in a veterans organization.
One education expert suggests what happened in Minnesota might be just the tip of the iceberg in this long political year. He recommends that schools still tackle tough subjects, but invite opposing groups to speak out on each issue.
Here's my question to you: Should the military be allowed to tell its story in public schools?
Interested to know which ones made it on air?
Alan from Eden Prairie, Minnesota writes:
If the military can honestly and openly tell school-age kids about what military service would do for them, then by all means, let them come to the career day presentation. Clueless kids getting out of high school and falling into the nearest college to major in beer are not doing themselves any good. A few years in the military or some other form of social service would help round and mature them prior to making the real world choice of where to start on a career.
Michael writes:
Jack, Of course military members should be able to tell their story in schools; it's the best kind of history lesson available on the current conflict. But, this group is about as nonpartisan as Iraq Veterans Against the War- nonpartisan but certainly not non-political. The underlying discussion has a place, the agenda certainly does not. As an Iraq War veteran myself, I'd be first to complain about this visit, at least without a chance to partake in the discussion myself.
Colin writes:
I am a veteran of the Iraq war and spoke after my deployment to my wife's high school class in Georgia. The topic focused on the cultural differences between our countries, but at the end when the students asked questions they learned some of the great things the military can offer besides going to war.
Proud Military Wife from Pennsylvania writes:
My husband is active duty and we are stationed in a remote, U.S. location. My daughter took an Air Force water bottle into class and it was sent home with a note that the water bottle could not have any writing on it in class. Our home number had to be changed and unlisted due to the phone calls of hate against us for supporting the war. This is U.S history.
Allen writes:
No. Young adults can be easily influenced into thinking that war is glamorous and exciting. They won't know the truth until long after they have signed up for 4 years and then it's too late.