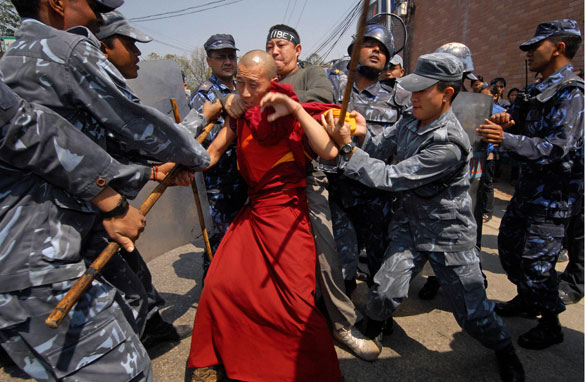 Nepalese policemen arrest a Tibetan monk protester in exile during an anti-Chinese demonstration in front of the consular section of the Chinese Embassy in Kathmandu on March 25, 2008. (PHOTO CREDIT: GETTY IMAGES)
FROM CNN's Jack Cafferty:
There's a small but growing chorus of voices that's telling the Chinese government to knock it off.
Latest reports are Chinese police opened fire on hundreds of monks and nuns in an effort to quell demonstrations by Tibetans in parts of China. Witnesses say one monk and a farmer were killed and about a dozen people were wounded.
The government in exile of the Dalai Lama in India says the overall death toll has risen to 140; the Chinese government says it's lower. Of course, there's no way to verify these numbers because there's no such thing as a free press in China and foreign journalists are being barred from any areas where there has been unrest.
The president of the European Parliament has said European countries should not rule out threatening China with an Olympic boycott if violence continues in Tibet. Shooting monks and nuns is not a good way to make friends in the global community.
So far, the only response from President Bush is that he plans to attend the opening ceremonies in Beijing, saying the Olympics are about the athletes and not about politics.
When it comes to the United States, the politics are: we are in debt to China up to our eyeballs. Money borrowed to finance President Bush's war in Iraq and the stimulus package. And it might be hard to keep borrowing billions from the Chinese if the U.S. called them out for being nothing more than barbaric savages in their treatment of one of the most peaceful people on earth, the Tibetans.
Here's my question to you: How bad does China's crackdown on Tibet have to get for the world to boycott the Olympics?
Interested to know which ones made it on air?
Tonya from Atlanta writes:
China is not Iraq. We can't make up a lie and bomb them. They'd probably bomb us back. So they can pretty much do what they want. We only chastise countries that don't have the same bully power that we do. Bush will go over there and smile. Then Cheney will come out and say "SO!" whenever the casualty numbers are announced across the world.
Will from San Jose, California writes:
There just needs to be video of the crackdowns. Iraqi prisoner mistreatment wasn't a pressing issue until the photos of Abu Ghraib showed up. LA police brutality wasn't front and center until the video of the Rodney King beating. A missing girl isn't a story unless there are lots of photos and video of her smiling face. The sad reality of today's news is that if there aren't images, it didn't happen.
Cookie from South Dakota writes:
Instead of boycotting the games, boycott all Chinese-made products. Don't buy anything made in China; spend a few dollars more or go without and let the money talk. Then learn to live on USA-made products.
Jake writes:
Sports and politics don't mix. Bush has it right for once. It isn't about the host country, it's about the great tradition that is the Olympics.
Tom from New Jersey writes:
How much are the lives of Tibetans worth? The situations in Iraq, Afghanistan, Darfur and elsewhere have shown that lives in the developing world are worth surprisingly little. So long as the developed world is indebted to China and trying to overcome its trade deficit with the growing Communist power, the sad truth is that short of mass murder, the global community will continue to pay lip service to the Chinese regime.
Thom writes:
Jack, It's clear to me that it has already gone too far. We should not only boycott China for the Olympics but also boycott Chinese imports. We can all do without tainted food and medication for a while.