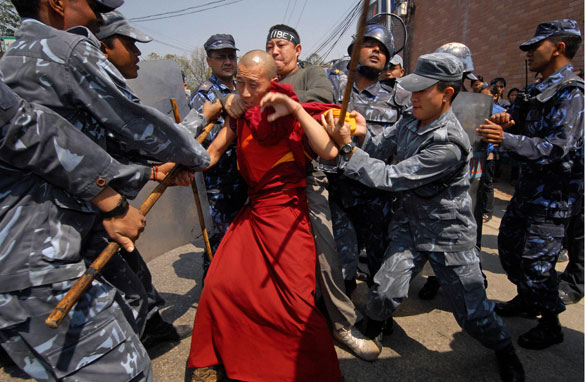 Nepalese policemen arrest a Tibetan monk protester in exile during an anti-Chinese demonstration in front of the consular section of the Chinese Embassy in Kathmandu on March 25, 2008. (PHOTO CREDIT: GETTY IMAGES)
FROM CNN's Jack Cafferty:
There's a small but growing chorus of voices that's telling the Chinese government to knock it off.
Latest reports are Chinese police opened fire on hundreds of monks and nuns in an effort to quell demonstrations by Tibetans in parts of China. Witnesses say one monk and a farmer were killed and about a dozen people were wounded.
The government in exile of the Dalai Lama in India says the overall death toll has risen to 140; the Chinese government says it's lower. Of course, there's no way to verify these numbers because there's no such thing as a free press in China and foreign journalists are being barred from any areas where there has been unrest.
The president of the European Parliament has said European countries should not rule out threatening China with an Olympic boycott if violence continues in Tibet. Shooting monks and nuns is not a good way to make friends in the global community.
So far, the only response from President Bush is that he plans to attend the opening ceremonies in Beijing, saying the Olympics are about the athletes and not about politics.
When it comes to the United States, the politics are: we are in debt to China up to our eyeballs. Money borrowed to finance President Bush's war in Iraq and the stimulus package. And it might be hard to keep borrowing billions from the Chinese if the U.S. called them out for being nothing more than barbaric savages in their treatment of one of the most peaceful people on earth, the Tibetans.
Here's my question to you: How bad does China's crackdown on Tibet have to get for the world to boycott the Olympics?
Interested to know which ones made it on air?