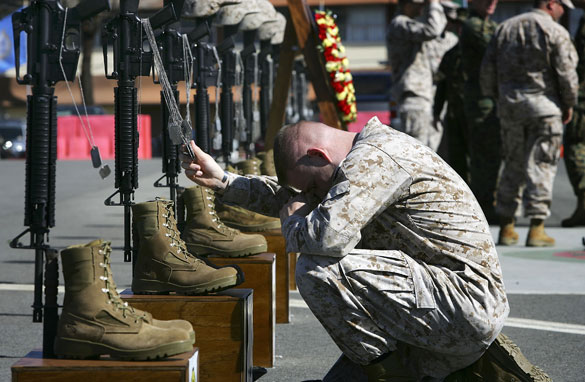 Corporal William Ward, a combat correspondent with the 1st Battalion, 1st Marines, holds the dog tags of fallen companions as the Marines of Regimental Combat Team 5 memorialize 100 Marines, soldiers, and sailors who died during the regiment's Iraq deployment. (PHOTO CREDIT: GETTY IMAGES)
FROM CNN's Jack Cafferty:
Only days after marking the 5th anniversary of the United States-led invasion of Iraq, the U.S. reached a tragic milestone – a death toll of 4,000 U.S. troops.
Four American soldiers were killed in roadside bombings yesterday, a day when the Green Zone was hit repeatedly by rocket and mortar fire. The ability of insurgents to attack a supposedly protected area shows just how fragile the security situation in Iraq remains.
The military insists that "no casualty is more or less significant than another", that each loss is equally precious and tragic. And the White House calls it a "sober moment", adding that President Bush spends time every day thinking about those who have lost their lives in the war. The president also insisted last week that he has no regrets about starting the war.
It's not clear how this latest news will affect the American public or impact the presidential campaign. Both Democratic candidates have called for a timetable for withdrawal. John McCain says it's important to finish the fight and even suggested we could have troops in Iraq for 100 years.
One expert tells Reuters that the 4,000 troop death toll could trigger another wave of heated debate at home. But others think it won't have as much of an impact as the 3,000 mark... which came at a time when the overall situation in Iraq was seen as going badly.
Meanwhile, as the war enters its sixth year, estimates of the Iraqi death toll range from 80,000 to hundreds of thousands. An estimated 2 million people have been forced to leave Iraq, and another 2.5 million are displaced within the country.
Here's my question to you: How should the milestone of 4,000 U.S. troop deaths in Iraq affect the American people?
Interested to know which ones made it on air?

Jerry writes:
You can bet if the Great Decider Bush and one-shot Cheney had children in Iraq, this worthless war would have been stopped long ago. Now old Bomb, Bomb McCain wants to stay there for another hundred years. He shouldn't be elected dog catcher much less president. It is hard for me to think about any more American soldiers being killed in that worthless part of the world.
Linda writes:
It's time for Americans to decide whether or not this is a war they really want to fight. If it is, then the draft should be reinstated so that all American families feel connected to the war and feel the worry and pain which only a few families now feel. If this is not a war which we think is worth fighting, then it's time to leave Iraq.
Beverly from Tom Bean, Texas writes:
The American people should be sad at the loss of so many of our young people. However, as we grieve for them, let us remember that it was their choice to join the service. They were willing to give their lives for us to continue our lives. When you see a person in uniform, stop them and thank them for their service.
Ed from Woodbridge, Virginia writes:
Jack, The war In Iraq has affected all Americans in one way or the other. But, I would be interested how a walk by President Bush among the headstones in Section #60 of Arlington National Cemetery, where American soldiers killed in Iraq rest in honored glory, would affect him! Bush and all the "big shots" on Capitol Hill who voted to give the president authority to invade Iraq will have to live with the fact that this was a major blunder from the get go, and they will have to live with it for the rest of their lives!
Gary writes:
Last year, President Bush told us to go shopping. This year we cannot afford the gas to go shopping. I was in Vietnam and my son was in Iraq in 2003. We both survived. Unfortunately 4,000 did not survive this misadventure. Sad, Sad, Sad.
Albert from Los Angeles writes:
4,000 troop deaths should make this election the most important in recent history, and people should flock to the polls for change. We can support our troops. And just like they fight for our well-being, we should fight for theirs, by bringing them home. Vote smart this November.