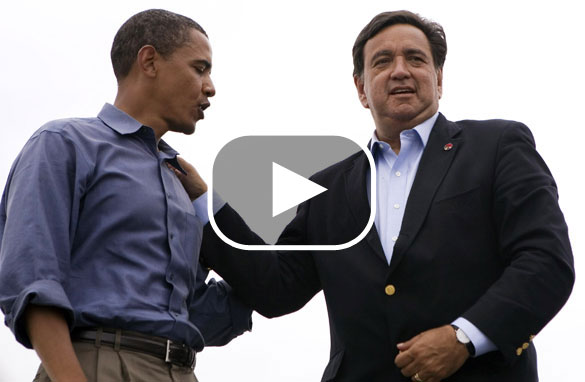 Gov. Bill Richardson and Sen. Barack Obama January 10, 2008 in Santa Fe, New Mexico.  Click on the Play Button to see what Jack and our viewers had to say. (PHOTO CREDIT: GETTY IMAGES)
FROM CNN's Jack Cafferty:
It could be the beginning of the end for Hillary Clinton.
Bill Richardson's endorsement of Barack Obama today is huge. Richardson, after all, served under President Bill Clinton as ambassador to the U.N. and secretary of the Energy Department. He's also a friend of the Clintons who watched the Super Bowl together with the former president last month.
So it couldn't be easy for Hillary Clinton when Richardson – whom both candidates had lobbied hard for an endorsement – came out today and called Obama a "once-in-a-lifetime-leader." Richardson said the speech Obama gave on race "appealed to the best in us."
The New Mexico governor and former presidential candidate's endorsement carries a lot of weight. He's the only Hispanic governor in the country, which presumably will help Obama in the Hispanic community.
He's also a superdelegate, and this may be the key. Richardson could potentially have a lot of influence over the remaining undecided superdelegates, which is still roughly half of the almost 800 party insiders. Today he suggested that it's time "for Democrats to stop fighting amongst ourselves and to prepare for the tough fight we will face against John McCain in the fall."
Clinton shrugged off the endorsement saying that both she and Obama have many great endorsers and it's the voters who will ultimately decide this election.
But when it comes right down to it, there are endorsements and then there are endorsements. Yesterday Dick Morris, former political adviser to President Clinton said the race is over and Obama has won. Today Bill Richardson, who likewise has ties to the Clintons, announces he's endorsing Obama.
Here's my question to you: How significant is Bill Richardson's endorsement of Barack Obama?
Interested to know which ones made it on air?
Alexandra from Toronto writes:
Very significant for 2 reasons: 1) If a personal friend and former staffer in the Clinton administration is not backing Hillary, it shows that there are character flaw issues with the Clintons. 2) It will encourage other superdelegates to rally around their obvious front-runner so that they can start fighting the Republicans.
Jed from Chico, California writes:
While it's easy to overplay the importance of some of these endorsements, this is likely to be the most important endorsement for either side to date. While I am confident Obama can lead, Bill Richardson was by far the most qualified out of all the candidates on either side. He was the only Democrat with extensive foreign policy, legislative and executive experience desired in a commander-in-chief. If anyone was ready to lead on day one with the judgment and experience necessary it was him. Forget Obama/Clinton. This year's Democratic 'Dream Ticket' is Obama/Richardson.
Allison writes:
Unbelievable! Clinton wins New Mexico, Richardson gets "1%" of the vote, and yet he endorses Obama? Not only can he not carry his own state, he goes against the will of the people in New Mexico. As far as I'm concerned, Richardson just sold his soul for special favors that will never come to fruition.
Velle from Halifax writes:
I thought it was very significant that Gov Richardson tactfully and subtly challenged Hillary to quit her campaign and pitch in and help the party to defeat McSame and Company. I see by Hillary's reply that she still considers herself more important than the party, the country and the people.
Kevin from Sacramento writes:
Jack, The endorsement was big, but what I found compelling was Gov. Richardson's well delivered speech - which dealt with issues ranging from race, to readiness, to personal anecdotes. In fact, the speech was so good, only Senator Obama could have hoped to follow it. And, of course, this could not have come at a more important moment for Senator Obama. My hat is off to the amigo from New Mexico.
John writes:
Jack, Richardson has to lose the beard. No one will take you seriously if you look like Wolfman Jack.