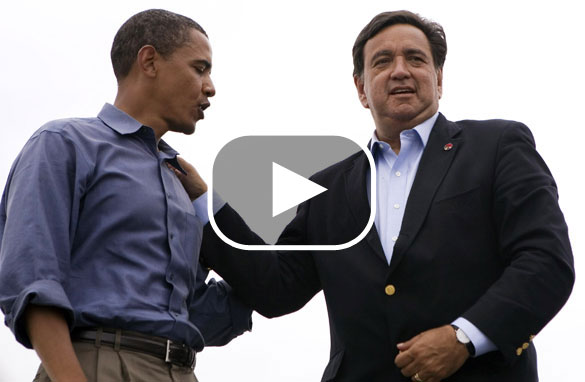 Gov. Bill Richardson and Sen. Barack Obama January 10, 2008 in Santa Fe, New Mexico.  Click on the Play Button to see what Jack and our viewers had to say. (PHOTO CREDIT: GETTY IMAGES)
FROM CNN's Jack Cafferty:
It could be the beginning of the end for Hillary Clinton.
Bill Richardson's endorsement of Barack Obama today is huge. Richardson, after all, served under President Bill Clinton as ambassador to the U.N. and secretary of the Energy Department. He's also a friend of the Clintons who watched the Super Bowl together with the former president last month.
So it couldn't be easy for Hillary Clinton when Richardson – whom both candidates had lobbied hard for an endorsement – came out today and called Obama a "once-in-a-lifetime-leader." Richardson said the speech Obama gave on race "appealed to the best in us."
The New Mexico governor and former presidential candidate's endorsement carries a lot of weight. He's the only Hispanic governor in the country, which presumably will help Obama in the Hispanic community.
He's also a superdelegate, and this may be the key. Richardson could potentially have a lot of influence over the remaining undecided superdelegates, which is still roughly half of the almost 800 party insiders. Today he suggested that it's time "for Democrats to stop fighting amongst ourselves and to prepare for the tough fight we will face against John McCain in the fall."
Clinton shrugged off the endorsement saying that both she and Obama have many great endorsers and it's the voters who will ultimately decide this election.
But when it comes right down to it, there are endorsements and then there are endorsements. Yesterday Dick Morris, former political adviser to President Clinton said the race is over and Obama has won. Today Bill Richardson, who likewise has ties to the Clintons, announces he's endorsing Obama.
Here's my question to you: How significant is Bill Richardson's endorsement of Barack Obama?
Interested to know which ones made it on air?