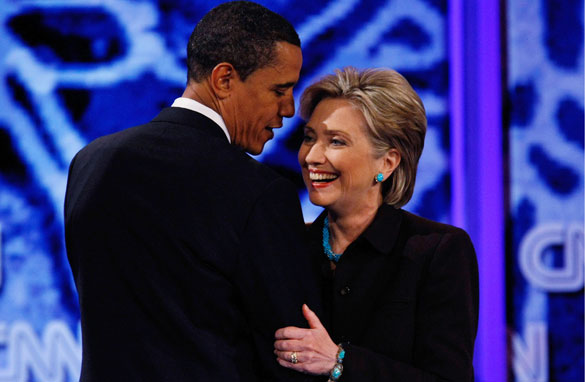 Sen. Barack Obama and Sen. Hillary Clinton at the CNN/LA Times/Politico Democratic presidential candidates debate at the Kodak Theatre in January. (PHOTO CREDIT: GETTY IMAGES)
FROM CNN's Jack Cafferty:
"If there is a road to victory for Hillary Clinton, it is a fairly narrow one."
That's according to a piece in today's New York Times.
It suggests Clinton needs three breaks in order to grab the nomination from Barack Obama. First, she needs a significant victory over Obama in Pennsylvania on April 22nd in order to support her argument that she can deliver big general election states. Then she needs a lead in the popular vote by the end of June. And lastly, Clinton has to convince superdelegates she's the best candidate.
But here's the problem: winning the popular vote seems a nearly impossible task for Clinton if these revotes don't happen in Michigan and Florida. And at this point, it looks very doubtful they will happen in either state.
Also, Clinton's campaign had hoped the uproar over comments made by Obama's pastor would make voters and superdelegates question his candidacy. It might be too early to tell, but it seems like Obama's speech on race was well-received and praised, even by some Clinton supporters.
Meanwhile, President Clinton's former political adviser, Dick Morris, is even less optimistic about Clinton's chances. He writes, "Senator Barack Obama has already won the Democratic nomination. It's over." Morris suggests Clinton can't catch Obama in the pledged delegate count, regardless of what happens during the rest of the primary season. He goes on to say the superdelegates won't override the will of the voters quote "unless Obama is in jail."
Here's my question to you: How likely is it that Barack Obama will be the Democratic presidential nominee?
Interested to know which ones made it on air?