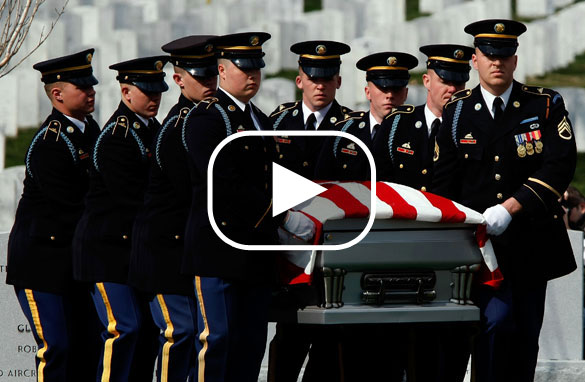 Click the Play Button to see what Jack and our viewers had to say. An honor guard carries the casket of Army Maj. Alan Greg Rogers to his burial service at Arlington National Cemetery March 14, 2008 in Arlington, Virginia. (PHOTO CREDIT: GETTY IMAGES)
FROM CNN's Jack Cafferty:
On the 5th anniversary of the start of the Iraq war, the U.S. has lost 3,992 troops. But it turns out a lot of Americans don't know it.
A new Pew poll shows only 28% of those surveyed know that almost 4,000 U.S. service members have died in Iraq. Almost half think the death toll is 3,000 or less, and 23% think it's higher. Last August, more than half of those surveyed knew how many Americans had died in Iraq.
The poll found public awareness of what's going on in Iraq has dropped as the news media have paid less attention to the war. For example: during the last week in January, 36% of people surveyed said the story they were following most closely was the political campaign. 14% said it was the stock market. 12% said it was the death of actor Heath Ledger. And only 6% said the story they were following most closely was the war in Iraq.
And that's sad... because if people aren't paying attention to what's going on in Iraq, then maybe they aren't quite as outraged about the almost 4,000 young Americans we've lost, or the almost 30,000 U.S. troops who have been badly wounded, or the more than 80,000 Iraqis who have died, or the more than $500 billion the U.S. has spent on the war – money that would have paid for the economic stimulus package with more than $300 billion left over.
Here's my question to you: How dangerous is it if Americans are becoming less aware of U.S. losses in Iraq?
Interested to know which ones made it on air?
Paula from Pennington Gap, Virginia writes:
Jack, On this 5th anniversary of the Iraq war, I am in "shock" of the blood and treasure squandered away and yes, I am in "awe" of the utter stupidity and callousness shown by this president and the 30% of the people who support him! My only question at this point is: why is this man still our leader?
Robin writes:
This is an interesting question, but I think a more appropriate question would be: why aren't the news media uncovering and reporting the real news about Iraq? We are hearing exactly what this administration wants us to hear and what is there to worry about if everything is working?
Mark writes:
The lack of awareness is not the fault of the media; the information is out there for anyone to find. It is the responsibility of any one person to keep themselves informed of recent events. If people can find out what is happening with Ms. Hilton and Mrs. Spears, then they should be able to find recent information on the wars in Iraq and Afghanistan. The sad truth is that people are used to the turmoil overseas and they would rather spend their time being entertained than informed.
Becca writes:
Extremely. I'm a college student and friends who both support and even adamantly oppose the war didn't think the number of casualties was as high as it is. How can we make smart decisions about what to oppose and what to support if we don't know the facts?
Melissa from Louisiana writes:
It's very dangerous indeed if Americans forget about the war in Iraq. Just look at how they've forgotten about Afghanistan. This is exactly what the Bush administration wanted: minimum coverage, no pictures of the flag draped coffins all serve one purpose. If the American people disassociate themselves with this war, the Bush administration can prolong it for as long as they wish.
Sal writes:
Ignorance is always dangerous, and in this case it is lethal. Lethal to our troops and lethal our economy.