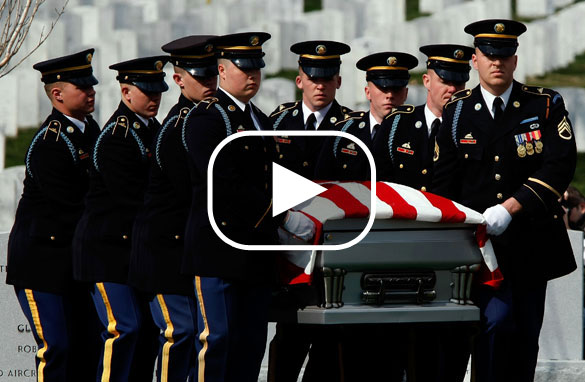 Click the Play Button to see what Jack and our viewers had to say. An honor guard carries the casket of Army Maj. Alan Greg Rogers to his burial service at Arlington National Cemetery March 14, 2008 in Arlington, Virginia. (PHOTO CREDIT: GETTY IMAGES)
FROM CNN's Jack Cafferty:
On the 5th anniversary of the start of the Iraq war, the U.S. has lost 3,992 troops. But it turns out a lot of Americans don't know it.
A new Pew poll shows only 28% of those surveyed know that almost 4,000 U.S. service members have died in Iraq. Almost half think the death toll is 3,000 or less, and 23% think it's higher. Last August, more than half of those surveyed knew how many Americans had died in Iraq.
The poll found public awareness of what's going on in Iraq has dropped as the news media have paid less attention to the war. For example: during the last week in January, 36% of people surveyed said the story they were following most closely was the political campaign. 14% said it was the stock market. 12% said it was the death of actor Heath Ledger. And only 6% said the story they were following most closely was the war in Iraq.
And that's sad... because if people aren't paying attention to what's going on in Iraq, then maybe they aren't quite as outraged about the almost 4,000 young Americans we've lost, or the almost 30,000 U.S. troops who have been badly wounded, or the more than 80,000 Iraqis who have died, or the more than $500 billion the U.S. has spent on the war – money that would have paid for the economic stimulus package with more than $300 billion left over.
Here's my question to you: How dangerous is it if Americans are becoming less aware of U.S. losses in Iraq?
Interested to know which ones made it on air?