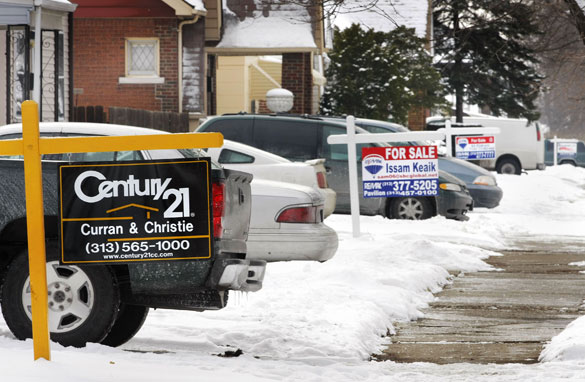 Real estate signs sit in front yard of four houses on one in Detroit, Michigan. The Detroit area, had the highest foreclosure rate in the nation last year. (PHOTO CREDIT: GETTY IMAGES)
FROM CNN's Jack Cafferty:
The United States' economic problems are getting worse.
Americans are grappling with higher costs for food and gasoline, while their adjustable rate mortgages go up and the value of their homes goes down. The economy is losing jobs – 63,000 of them last month. The dollar continues to hit record lows against foreign currencies, like the Euro, while rising commodity prices signal inflation.
The nation's fifth largest investment bank, Bear Stearns went belly up. And the Federal Reserve, on a Sunday night, struck fear into everyone's heart by suddenly announcing that the government is going to make emergency loans available to Wall Street firms in addition to banks.
Why Sunday night? What did they know that couldn't have waited until Monday during regular business hours, when the fear quotient of their decision could have been greatly reduced?
Similarly, the Fed's race to dramatically lower interest rates in big chunks – for example, today's reduction of three-quarters of a percentage percent – also raises the question whether things are worse than we're being told. A recession is all but inevitable and it could be long and deep.
A new CNN/Opinion Research Corporation poll shows 65% of those surveyed are very concerned about inflation. 59% are very worried about unemployment. 48% point to the drop in home values and 40% to the drop in the stock market.
Here's my question to you: How is the growing bad news about the economy affecting your daily life?
Interested to know which ones made it on air?