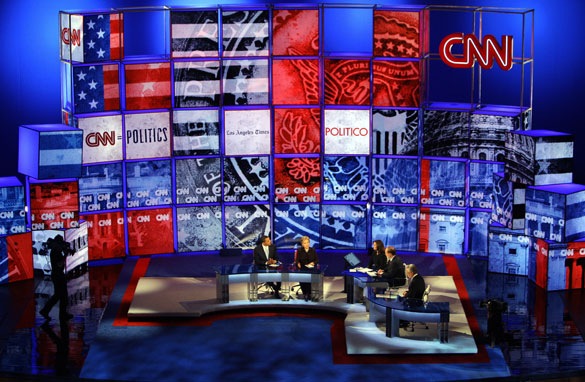 Televised CNN/LA Times/Politico Democratic Presidential Candidates Debate, January 2008 at the Kodak Theatre in Los Angeles. (PHOTO CREDIT: GETTY IMAGES)
FROM CNN's Jack Cafferty:
In the off chance you haven't had your fill of political debates this primary season, you're in luck.
Hillary Clinton and Barack Obama – who have already faced off against each other 20 times – could meet up for at least one and maybe two more debates.
Both candidates have agreed to debate in Philadelphia next month, ahead of the April 22nd Pennsylvania primary. Also, Obama has agreed to a match-up on April 19th in North Carolina. No word yet on whether Clinton is in for that one.
It's not clear how much effect these debates have on voters. Throughout this primary season, we've pretty much seen it all during these face-offs: Clinton and Obama have been nice to each other, they've been nasty to each other, they've been honored to share the stage with each other, and then they've gone on the attack.
The single most memorable moment in all these meetings may have been when Senator Clinton was asked about giving drivers' licenses to illegal aliens – an idea put forth by her good friend and supporter Client Number 9, also known as New York Governor Eliot Spitzer.
So what's yet to come in Pennsylvania and perhaps North Carolina is anyone's guess.
Here's my question to you: How interested are you in more debates between Barack Obama and Hillary Clinton?
Interested to know which ones made it on air?
Wendy from San Rafael, California writes:
Debates are used to clarify a candidate's stand on the issues. Now if anyone doesn't know what these candidates stand for, they don't deserve to have the right to vote. I am sick and tired of the debates. All they offer are more sound bites but nothing of substance. If they were held by the League of Women Voters as was formerly done, now then I'd be interested. They were much more substantial.
Rob from Norway, Maine writes:
I think debates are good. It forces these campaigns to stop attacking each other through surrogates and makes them actually say whatever they have to say to the other's face. It's much more of an adult forum than the "he said, she said, then resigned" that has been going on the past few weeks.
O.A. from Austell, Georgia writes:
Jack, Come on, these debates are really getting out of whack. You become weary of something when it is done too much and I think that the Democratic debates are becoming quite weary to say the very least… The only debate I want to see from now on is between the Democratic nominee and Sen. John McCain. End of story.
Dick writes:
Yes, please. More debates. Here is my idea: We put the nomination on the line and then ask each candidate personal questions like that "Moment of Truth" TV show. The one who tells the truth the most gets the nomination.
Dan from Arizona writes:
I thought the California debate was a fun one to watch. The Texas debate was a little boring. I would still love to see more debates between Clinton and Obama because it helps undecided voters become decided. What else is there to do on Thursday nights? Unless the Phoenix Suns are playing on TV.
Kevin from Warren, Michigan writes:
More debates? Jack, only if you, Bill Maher, and Jon Stewart were the moderators. That would be an evening to remember.