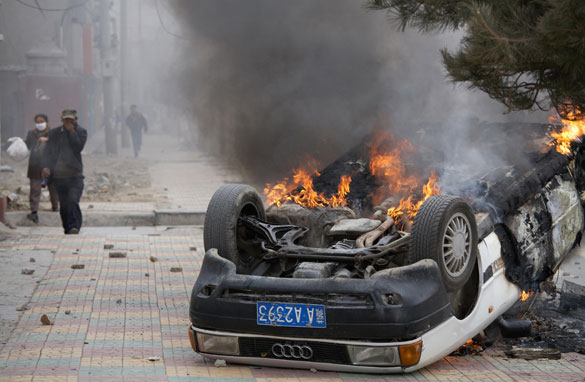 A burning car sits on a street in the Tibetan capital Lhasa after violent protests broke out on March 14, 2008. (PHOTO CREDIT: GETTY IMAGES)
FROM CNN's Jack Cafferty:
China has been hoping to boost its image in the eyes of the world as it gets ready to host the Summer Olympics in Beijing, but the Chinese government's crackdown on protesters in Tibet is not helping.
What began a week ago as mostly peaceful protests by monks has spiraled into violent clashes, with Tibetans attacking the Chinese and burning their businesses. The Chinese government is now vowing to protect its territory and issued a midnight deadline that's now passed for protesters to either surrender or face harsh consequences.
There are reports of Chinese authorities parading handcuffed Tibetan prisoners in the capital of Lhasa. Chinese police are going house-to-house checking id cards and residence permits. The Chinese government puts the death toll at 16, with dozens injured. But the Dalai Lama's exiled government says 80 people have been killed.
Meanwhile, the protests that started in Tibet have spilled into three neighboring provinces and even to Beijing. And sympathy protests are also going on around the world.
China insists the violence won't harm the upcoming Olympic games. The U.S. has called on China to show restraint.
However, it's getting support from who else but Russia – another beacon of human rights. The Russian government says it hopes China will take "all necessary measures to stop illegal actions." It adds that any efforts to boycott the Olympics are "unacceptable."
Olympic officials also say they are opposed to a boycott because of the violence in Tibet.
Here's my question to you: Should countries boycott the Olympic Games in light of China's crackdown on protesters in Tibet?
Interested to know which ones made it on air?
Jeff from Carmel, New York writes:
It's a travesty. We stomp around the world fighting for freedom except when the offender is someone like China, whose money we desperately need. The world should rise up and boycott everything Chinese until the people of Tibet regain their freedom. These are the most peaceful people on earth; they should be role models for all of us. They deserve better.
Terry writes:
I remember in 6th grade participating in a school debate over boycotting the 1980 Olympics in Moscow. I supported that boycott, but today's world is different, as is my opinion. Go to China, enjoy the games, and take your digital cameras. The citizens will be putting on a display for you. Send your pictures to CNN. Don't get caught. Sunshine in China may be the best thing to happen to them. If you want to boycott something to really hurt China, stay out of Wal-Mart.
Brian from Redondo Beach, California writes:
Yes, boycott. China reminds one of Germany in the 30s. Will our people be safe there? And will the judging be fair even if we do attend? Hit them economically, which is what a boycott would accomplish.
James from Canada writes:
Given Guantanamo, rendition, Abu Ghraib, waterboarding, etc., the U.S. is hardly in any position to lead a human rights boycott of the Olympics.
Krake writes:
Boycotting will be a late and inadequate reaction. Allowing China to have the Olympics was the big mistake, especially since it was already known that the Chinese government is a human rights abuser and cruel regime. The violence in Tibet simply highlights what was already known.
Troy writes:
I would rather see our athletes wear "Free Tibet" T-shirts in Beijing during the opening ceremony. Oh Mao goodness.