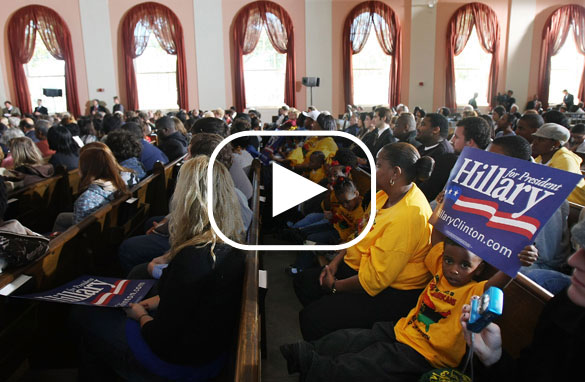 Click on the play button to see what Jack and our viewers had to say. Campaign rally for Hillary Clinton at a Dillard University chapel February 8, 2008 in New Orleans, Louisiana. (PHOTO CREDIT: GETTY IMAGES)
FROM CNN's Jack Cafferty:
Bill Clinton was once famously dubbed America's "first black president" and both Clintons have enjoyed tremendous popularity among African-Americans. That is, perhaps until now.
Last night, Hillary Clinton found herself apologizing to black voters. She said she was sorry for her husband's comments after the South Carolina primary, which Barack Obama won. At the time, Bill Clinton said Jesse Jackson had also won the state when he ran for president – a comment seen as belittling Barack Obama's victory. Hillary Clinton said she was sorry if anyone was offended and claims that's not how it was meant.
Clinton also responded to Geraldine Ferraro's remarks that Obama wouldn't have made it this far if he were white. Clinton said she repudiates and deeply regrets those comments, adding that Ferraro doesn't speak for her. Ferraro resigned last night from Clinton's campaign finance committee.
Apologies aren't something we're used to hearing out of Hillary Clinton's mouth. In fact, many have been disappointed that she's refused to apologize for her vote to authorize the war in Iraq. The closest Clinton has come is to say she regrets it.
Heartfelt or not, her apologies to African-Americans have become a political necessity. Consider that in a poll taken last October, black Democrats preferred Clinton to Obama by a margin of 57% to 33%. Fast forward five months. These days, Obama is winning as much as 80% to 90% of the black vote.
Here's my question to you: How much damage has been done to the Clintons' standing in the African-American community by Bill Clinton and Geraldine Ferraro?
Interested to know which ones made it on air?
D. from Miami, Florida writes:
As an African-American, I believe that the harm is irreparable. I watched in shock and disbelief as Clinton responded, "Well I didn't say it" in response to Ferraro's ludicrous arguments. I never liked Hillary but I was willing to give her a pass based on the accomplishments of her husband. After his numerous meltdowns, her pass was quickly rescinded. Now her own (mis)judgments have left such a bitter taste in my mouth that I wince at the mere mention of her name.
Les from Oklahoma writes:
Jack, I really don't know how much damage they have done in the African-American community. But how come everyone assumes that all Obama supporters are African-American? I am an old white guy who thinks this young man is one of the brightest young people to come alone in quite some time. I hope we give him a chance.
Pat from Cincinnati, Ohio writes:
Gee, Jack, do you suppose the media lifting words out of context, playing them over and over, and hen asking a pejorative question might be the problem here? I judge people on their actions by looking at their history. This country knows the Clintons are not the least bit racist and I am ashamed that Sen. Obama is continually fanning the "racist" flames to further his candidacy. I suspect there will be a backlash because this country's memory is longer than you give it credit for.
Tom from Forest Hills, Pennsylvania writes:
Jack, If it is perceived that the nomination is stolen from Obama, the African-American vote as well as the newly-registered youth vote will be lost for a generation.
Bruce from Sugar Loaf, New York writes:
This is huge. All the trust the Clintons gained in the African-American community (in the 8 years Bill Clinton was president) has eroded in the span of just 2 months. The divisive campaign Billary has conducted is shameful, selfish, and very destructive to the Democratic Party. Race is still a very explosive issue in this nation and will continue to be for some time to come. You would think the Clintons would know better.