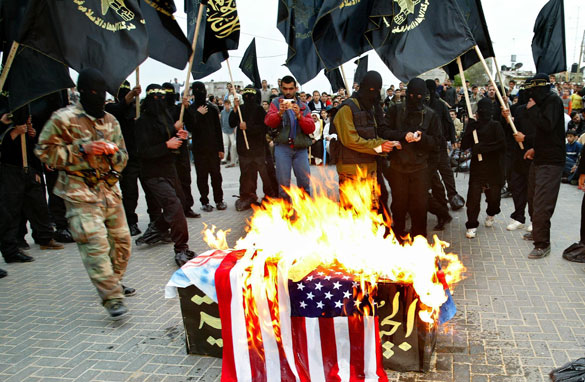 Members of the Islamic militant group Jihad burn U.S, Israeli and British flags over a mock coffin symbolic of Arab armies during an anti-American, British and Israeli rally April 2003 at the Jabalia refugee camp, Gaza Strip. (PHOTO CREDIT: GETTY IMAGES)
FROM CNN's Jack Cafferty:
"The magic is over" for the United States. Those are some pretty tough words coming from one of our key allies.
French foreign minister Bernard Kouchner says that whoever succeeds President Bush might restore some of America's tarnished image overseas, but that, "It will never be as it was before." Keep in mind Kouchner happens to be one of France's strongest supporters of the U.S.
The International Herald Tribune reports Kouchner pointed out that the military supremacy of the U.S. endures. But he said that the next president will have to decide what to do in order to re-establish our image, and he said that take some time.
The United States, which had the support of nearly every country in the world after the 9-11 terror attacks, has since squandered much of that goodwill, under the leadership of President Bush. The 2003 American-led invasion of Iraq caused particular damage when it comes to how the rest of the world views us. The best reputation and image in the history of mankind shot to hell in seven short years of the Bush administration. Osama bin Laden must be laughing out loud.
And the next president – be it John McCain, Hillary Clinton or Barack Obama – will have a very long way to go in restoring our reputation, indeed if that is even possible.
Here's my question to you: France's foreign minister says "the magic is over" for the U.S. Is he right?
Interested to know which ones made it on air?
Kenneth from Granite City, Illinois writes:
Jack, The foreign minister isn't the only one overseas who thinks America has lost her glitter. You and Wolf need to get out from behind those tv cameras, visit Europe, and get a taste of what Europeans think of the Spitzer story and the worthiness of Obama and Clinton as possible presidents. You will be pleasantly surprised. They're in tune over here and following the proceedings closely.
Eugene from California writes:
Jack, I don't see why the French foreign minister would say America has lost its magic, when French based Airbus/EADS just received a huge contract worth billions of dollars to build our Air Force's next generation refueling tanker. If we've lost our magic, then let's rescind the tanker contract and award it to an American company like Boeing. Jack, why in the hell are foreign countries building our military aircraft in the first place?
Mike from New Orleans writes:
Only a Democrat as president can repair our reputation abroad. Nobody on this planet will trust any words or deeds that come from an extension of the Bush administration in the form of John McCain. In fact, McCain has already blown his foreign policy credibility by his so-called 'violence-free' stroll through Bagdad, and later singing "Bomb bomb bomb bomb bomb Iran" for the whole world to hear.
Ed from Rhode Island writes:
Jack, Anyone who can connect the dots, even based on today's modern day American media, let alone the BBC or internet, must certainly agree with Kouchner. This country has suffered enormous consequences since the 2000 Supreme Court decision that enabled Bush to go on his seven year abomination. Nobody can undo the damage that he has done!
Mark from Berwyn, Pennsylvania writes:
The U.S. has faced difficult situations before… and we survived and became better for the challenge. This time is no different. The French would just love to see us fall, but they should not hold their collective breath. And by the way, who listens to the French anyway? Seriously?