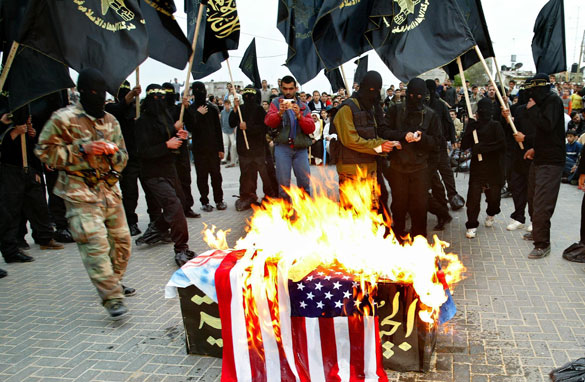 Members of the Islamic militant group Jihad burn U.S, Israeli and British flags over a mock coffin symbolic of Arab armies during an anti-American, British and Israeli rally April 2003 at the Jabalia refugee camp, Gaza Strip. (PHOTO CREDIT: GETTY IMAGES)
FROM CNN's Jack Cafferty:
"The magic is over" for the United States. Those are some pretty tough words coming from one of our key allies.
French foreign minister Bernard Kouchner says that whoever succeeds President Bush might restore some of America's tarnished image overseas, but that, "It will never be as it was before." Keep in mind Kouchner happens to be one of France's strongest supporters of the U.S.
The International Herald Tribune reports Kouchner pointed out that the military supremacy of the U.S. endures. But he said that the next president will have to decide what to do in order to re-establish our image, and he said that take some time.
The United States, which had the support of nearly every country in the world after the 9-11 terror attacks, has since squandered much of that goodwill, under the leadership of President Bush. The 2003 American-led invasion of Iraq caused particular damage when it comes to how the rest of the world views us. The best reputation and image in the history of mankind shot to hell in seven short years of the Bush administration. Osama bin Laden must be laughing out loud.
And the next president – be it John McCain, Hillary Clinton or Barack Obama – will have a very long way to go in restoring our reputation, indeed if that is even possible.
Here's my question to you: France's foreign minister says "the magic is over" for the U.S. Is he right?
Interested to know which ones made it on air?